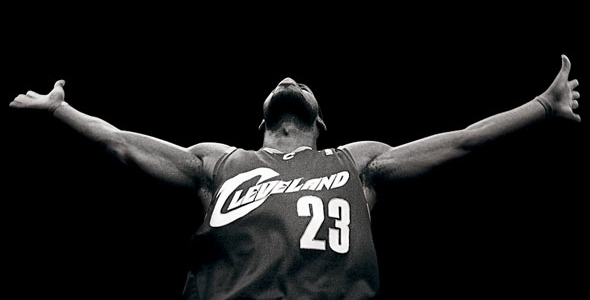 August 9, 2010 – Kevin Burke
From the moment LeBron made the heavily scrutinized decision  to "take his talents to South Beach" and join the Miami Heat, in a seemingly easier route to an elusive NBA Championship, I thought that he should have been applauded rather than hated. The fact that he willingly put himself in the crossfires, all in the name of winning, is commendable. The other side of that argument is that he is a traitor. That sentiment largely comes from Cleveland where people actually shed tears when he made his decision, and foolishly burned his jersey. It will take LeBron a very very long time climb his way back into the good graces of his detractors, but some feel as if he may have taken a step towards that when he recently thanked the city of Cleveland for all of their support. But is it too little, too late? Maybe.
For the most part, I think LeBron is a sharp guy, but some of the things he does doesn't really seem that thought out. This summer is an example. Although I didn't mind the hour-long reality show, "The Decision", it's easy to see why others did. Then, last week, he took out a full-page ad in the Akron Beacon Journal where he thanked the city for their support. The word "Cleveland" was not present in that ad. There was a mini uproar that ensued because LeBron made the effort to thank a city in Ohio, but it wasn't Cleveland. When I first heard the news, I had a split response. Half of me said, "So what? He's from Akron, not Cleveland." Then the other, rational side said, "That has to be the dumbest thing I've ever heard."
How could he take the time to thank Akron, and not even acknowledge Cleveland? That wasn't thought out at all. How could his PR crew co-sign such a big mistake? Well, over the weekend, he finally got it right. In his first public appearance since announcing he was leaving Cleveland, at his annual charity bike-a-thon in downtown Akron on Saturday, LeBron did what he should have done a while ago. He thanked Cleveland. When he took the podium, he was actually welcomed with cheers (hard to boo a guy at his own charity event).
In front of a few hundred people, he said, "To the city of Cleveland, my fans in Cleveland, my fans in northeast Ohio, I want to say thank you for the last seven years and the years that continue to go in the future." He would speak for a little while longer before mentioning Cleveland again. "So I want to thank the city of Cleveland, also northeast Ohio, for all the great years that I've had." I guess he really wanted to make sure everybody heard him.
LeBron told the world that he was going to Miami on July 7. His charity bike-a-thon, where he thanked Cleveland was August 7. Why did it take him an entire month to do this? More than anything, I would like to hear the answer to that question. What made it worse was that other players took the time to thank their former city before LeBron did. Amar'e Stoudemire thanked Phoenix in a rather expeditious manner, but the kicker was Zydrunas Ilgauskas, who is also in Miami now. Even he thanked Cleveland before LeBron did. That made LeBron look very bad. I know that Z has been in Cleveland much longer than LeBron, but come on. LeBron shouldn't have allowed Z to beat him to it. Now, it looks like LeBron is just reacting to all the other players around the league who have done this.
I can't speak for anyone, but I think his "thank you" is a day late and a dollar short. I think he missed the boat. It took too long. This may have even fueled the fire, because not only did it take a month, but he ignored Cleveland in his Akron thank you. 
I said it before and I'll say it again: LeBron doesn't owe anybody anything. He doesn't owe Cleveland a goodbye, or a thank you for that matter. But, he needed to do it right if he wanted to be well received again, which I think he wants. If he doesn't, then I guess this is a moot point.
If you're looking for your everyday, predictable basketball talk, then go somewhere else, because Kevin Burke of The Kevin Burke Project brings provocative, thought provoking content about basketball as only he can. Kevin also hosts The Hoop Doctors weekly podcast show, which you can subscribe too for free on iTunes.