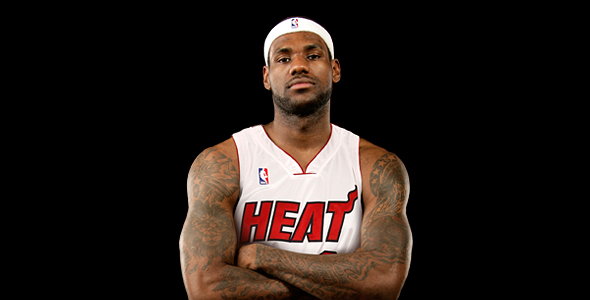 August 27, 2010 – Kevin Burke
We're approaching two months since LeBron James told everyone that he was leaving Cleveland and headed to South Beach. Since then, there have been a number subsequent stories surrounding James that include people questioning his decision, to him tweeting that he's making a mental note of people who are taking shots at him. The latter definitely doesn't bode well for him getting back in the good graces of people who have turned on him, but he seems to be settling in to his new home. James and some other NBA players visited the University of Miami and played pick up ball with the basketball team.
"No question, it's great having those guys here," Miami coach Frank Haith said. "It's a great influence for our players. They're some of the greatest players in the NBA, so it's obviously great for our guys and our program."

James had a variety of eye-popping dunks during the pickup games, which were played without an audience — and with no video.

The Hurricanes hope to see plenty more of James, who has also been invited to see a Miami football game from its sideline anytime he wants — even if that happens to be Sept. 11, when the nation's No. 13 team travels back to James' homeland to face No. 2 Ohio State.
Although this isn't really Earth shattering news in the grand scheme of things, I thought it was important to highlight that LeBron has in fact done something this summer that people would applaud and not criticize. It also shows that maybe he has gotten over the firestorm of bad press aimed at him that no doubt, had to have gotten under his skin.
James along with Chris Paul, Mike Miller, Udonis Haslem and Patrick Beverley all played with the University of Miami Hurricanes basketball team. Communities embrace things like this because it shows that a guy is comfortable in his surroundings. James and Mario Chalmers (who was there but did not play) even stayed around a little while after for pictures. After the summer that he's endured so far (some of which was brought on himself), he finally got something right.
If you're looking for your everyday, predictable basketball talk, then go somewhere else, because Kevin Burke of The Kevin Burke Project brings provocative, thought provoking content about basketball as only he can. Kevin also hosts The Hoop Doctors weekly podcast show, which you can subscribe to for free on iTunes.