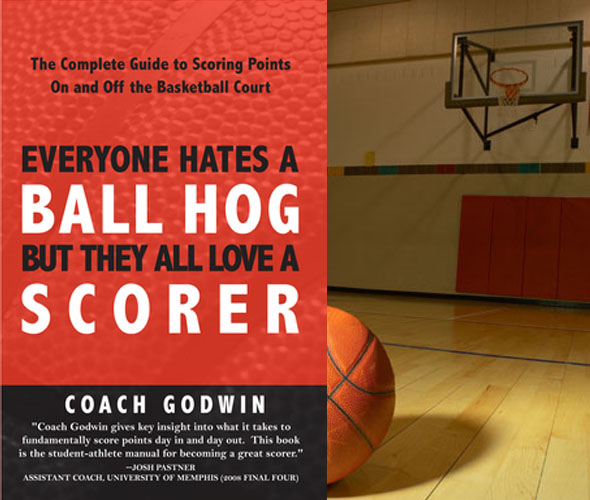 April 13, 2009 – Dr. Anklesnap

The book "Everyone Hates a Ball Hog, But they all Love a Scorer" was written by Coach Koran Godwin, who not long ago in 2002 became the All-time leading scorer at the University of North Florida. Koran is also the founder of JumpStartHoops.com. His whole life he excelled on the court by being able to score points at record pace. Now he has written a book revealing his secrets to scoring success. Aside from being one of the most witty titles to a basketball book i've ever read, it is also a very important read for any developing basketball player who wants to make the jump from being an average scorer to being a great one.
I've spent a good portion of my life studying and learning the game of basketball. I've read quite a few books related to the sport. I would read anything I could get my hands on, provided it was based on basketball. So it sort of surprised me when I was only a couple of chapters into Coach Godwin's book when I came across a scoring concept that was not only completely novel to me, but also that seemed so simple yet important for players wanting to be a true scorer, it was almost embarrassing not to realize it on your own. I won't give away the details of the concept, as you will have to pick up a copy of Coach Godwin's book and read it yourself, but I can tell you to look for the section related to breaking down the timing of the game.
There has been a lot of controversy lately surrounding the decision the Pistons have had to make between starting either Allen Iverson or Rip Hamilton. I don't think my colleague Dr. Dime or myself have been shy with voicing our opinions on the matter. But without rehashing too much, I often liken the difference between Rip Hamilton and Allen Iverson to the difference between a great shooter and a great scorer, respectively. Coach Koran Godwin in his book spends a lot of time talking about what is necessary physically and mentally to go from being just a good jump shooter who can falter when his shot is off, to being a great scorer that can find ways to score and help his team regardless of his shooting touch. Here are some of Coach Godwin's thoughts:
The most potent basketball scorers are those who score with their minds. I likened it to the basketball difference between a shooter and a scorer. A shooter is someone who goes out and just uses his jump shot to score. There is no plan or direction; he gets the ball and shoots it. A scorer is someone who takes his time, identifies the weakness in the defense, and attacks accordingly.
Every basketball player who excels at any level of the game, knows that the more you excel on the offensive end the more opposing coaches will either double team you or have their best defender stick to you like glue. Coach Godwin spends some time in his book giving you tips on how to continue to score regardless of the defense. Here is just a small sample of one of his great tips:
One of my tactics for the triple threat position was always to act like I was trying to pass the ball to someone. What I really was doing was looking for driving angles and lulling my defender to sleep. When the defender thinks you are trying to pass the ball, he is less likely to concentrate on stopping an explosive move. It works every time!
From Manu Ginobili, to Vince Carter, to Allen Iverson, to Dwyane Wade we have all discussed the many 'superstar calls' these star NBA players have gotten over the years by being aggressive in taking the ball to the cup. Were they really fouled? Did the refs give them the benefit of the doubt? Is there such a thing as a "superstar foul call"? Coach Godwin thinks so. Not only does Coach Godwin believe in these calls, he wants players to use the questionable calls to their advantage:
Watch any NBA game and you will notice that you see the top players on the foul line the most. When a rookie drives and gets fouled there's no call, but as soon as Joe All-star drives, the whistle is blown before you touch him. I guess success begets success.
But what I respect most about the philosophies of Coach Koran Godwin in "Everyone Hates a Ball Hog, But they all Love a Scorer" is the fact that he doesn't try to press any 'get rich quick' strategies on you. All the way through the book he talks about the need to put in hard work, day in and day out, to succeed in this sport. He talks about his own work ethic and how it helped him get a leg up on the competition, year after year. One of the most interesting quotes about work ethic I will remember from this book is "there comes a time when the winter asks you what you were doing all summer". Here are Coach Godwin's thoughts:
There comes a time when the winter asks what you were doing all summer. This statement hit home as I noticed that the difference between a good player and a great player was how hard he worked. This is the reason I prided myself on work ethic and dedication in the off season.
So I guess the question is would I recommend this book? Hella Yes! Get your copy now from JumpStartHoops.com. Here is a thumbs up for "Everyone Hates a Ball Hog, But they all Love a Scorer" from Obama to The Hoop Doctors to Coach Koran Godwin: