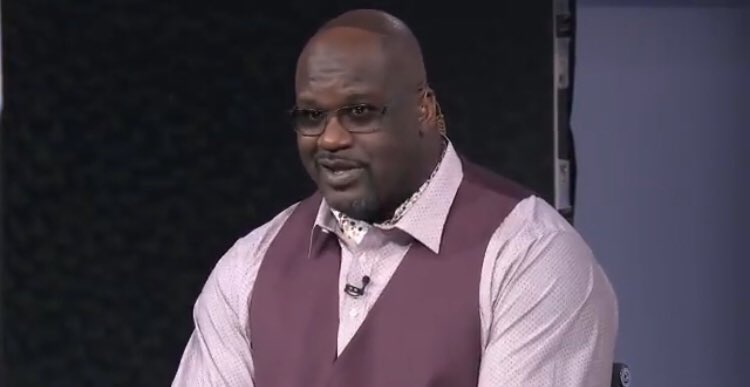 Dwyane Wade and Shaquille O'Neal entered into a friendly bet this week about who would win between the league leading Milwaukee Bucks and Wade's old team the Miami Heat. Shaq took the Bucks, and of course Wade took the Heat.
Unfortunately for Shaq the Heat got the win. But making it worse, the bet wasn't for money, it was more of a prop bet. In Shaq's case he is being forced by Wade to make good on the bet by letting his true hairline to grow in and kept for over a week. Even while on TV as an analyst for TNT.
According to the best online casinos and sports betting websites of CasinoShark, Shaq was probably right at the time the bet was placed to pick the Bucks, but hindsight is 20/20, and in the end he can't renege on this bet.
Good for Shaq for following through, even if the hairline is a bit further back than he remembers….
"I just lined it up for y'all, so you all could see where my hairline starts. And it looks good and I'm proud to do it and I'm going to keep it all week."
.@SHAQ's punishment for losing his friendly wager with D-Wade is priceless ? pic.twitter.com/JII7yrrH99

— NBA on TNT (@NBAonTNT) March 4, 2020
And people got jokes too…
Shaq looking like he went to the Whitlock Hair Club ? pic.twitter.com/WXXxOiewTO

— Tyler Conway (@jtylerconway) March 4, 2020
@SHAQ hairline looks like your skullcap after you take off your helmet. ??? https://t.co/MGvOqepXLP

— Will Blackmon (@WillBlackmon) March 4, 2020
Shaq got the Carlos Boozer special ? pic.twitter.com/sa7mMvkN2w

— Andrew Joseph (@AndyJ0seph) March 4, 2020
At the end of the day, I think we can all agree that Shaq is being a good sport about this prop bet, and we would love to see more prop bets in the future with these fellas!