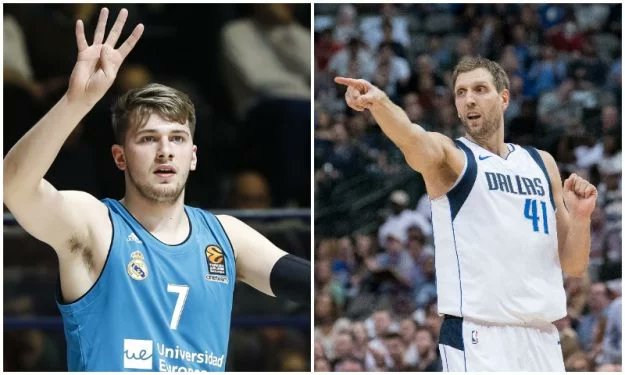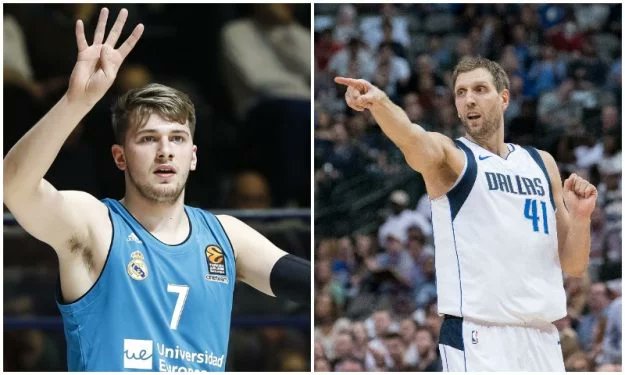 Luka Doncic comes into the NBA with more hype than any other European ever has entering the league and is as accomplished as any European player entering the NBA as a reigning EuroLeague MVP at age 19
He also just happens to be starting his career as teammates with the great European basketball player in NBA history, Dirk Nowitzki.
So how does Dirk feel about Doncic? Let's just say he is a fan.
Here is what he said about the No.3 pick on the Ben & Skin Show on Dallas local radio station 105.3:
"Yeah, he's been here now for a week. He's scrimmaged every day and works hard. I'm really liking what I'm seeing. He's incredible with the ball for a big guy. He's unbelievable in pick and roll play. His court vision is already unbelievable. I couldn't believe what I saw from a 19/20-year-old. He's a good shooter when he has time and I think he's going to be great for us for a long, long time."
Here is what Dirk said when asked if Doncic is better than him at that same age.
"Oh yeah. I could shoot a little bit but I never had the court vision … the savviness that he brings to the game. Just the way he already reads the pick and roll … all the stuff like Chris Paul and these guys do … He's going to be fun to watch especially with bigs like DeAndre (Jordan) and Dwight (Powell) rolling to the rim … He's going to pick defenses apart and it's going to be fun to watch."
Well the hype continues to grow for the 19-year-old prodigy as he has quite a bit to live up to when he makes his NBA debut in Phoenix against No. 1 pick DeAndre Ayton on October 17.
The Mavericks should be one of the more interesting teams to monitor in the NBA this season to see how their young back court of Dennis Smith Jr. and Luka Doncic fit together and if they are able to play their way in what figures to be a crowded playoff mix in the western conference.
If Doncic becomes anywhere near the player Dirk Nowitzki has been for the Mavericks, they will be in good hands after Nowitzki decides to retire.