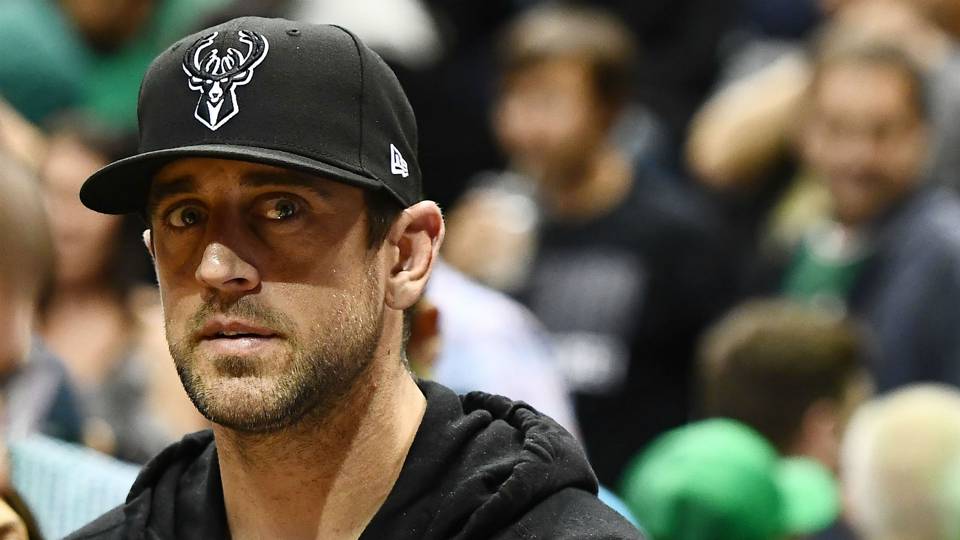 Aaron Rodgers reached an agreement with the Green Bay Payers on a four-year extension worth $134 million, with a $103 million guarantee and incentives that could inflate its value to $180 million. So, naturally, Giannis Antetokounmpo was asked about it.
And of course he was. Why wouldn't he be? Rodgers has been seen at Milwaukee Bucks games. Both he and Antetokounmpo are essentially the faces of Wisconsin professional sports. They obviously need to comment on each other's earnings.
Anyway, here's what Antetokounmpo had to say about Rodgers' deal:
What does @Giannis_An34 think about @AaronRodgers12's record-setting new contract? "That's a lot of money." pic.twitter.com/fFOnhSbwTm

— USA TODAY Sports (@usatodaysports) August 30, 2018
Pretty spot-on. Rodgers' guarantee is massive by the NFL's standards, which, until recently only ever assured even the starriest players of 60 to 70 percent of their total contract. Rodgers' guarantee—$103 of $134 million—comes close to 77 percent. That's improvement. Or something.
People will of course compare his agreement to NBA money, perhaps even using Antetokounmpo's own four-year, $100 million pact, which kicked in last season, as a basis for debate. Don't do that. The sports are different. The collective bargaining agreement is different. The NFL's players union isn't anywhere near as strong as the NBA's. Antetokounmpo's deal is in no way landmark. It's standard for a superstar of his caliber and experience.
Hence Antetokounmpo's reaction to Rodgers' contract. He, like pretty much every other player, probably understands the differences between NBA money and NFL money. That, or he heard the four-year, $134 million figure, assumed it was all guaranteed and then applied basic math, which would show Rodgers is actually earning $34 million more than him over his four year deal. He also could have heard the $180 million figure and been blown away as well.
However Antetokounmpo was reading Rodgers' contract, his comments are fundamentally on point. Green Bay's quarterback got his bag.