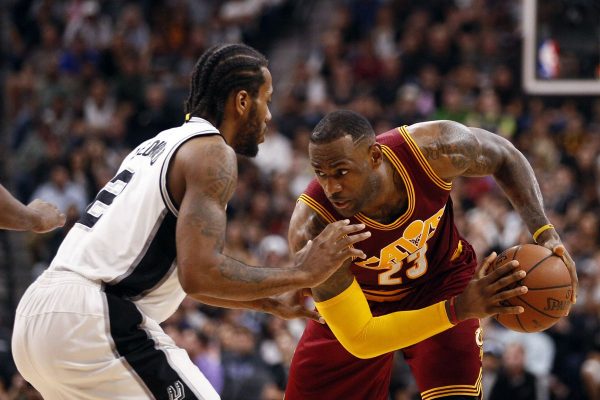 LeBron James has joined the Los Angles Lakers. That is an objectively weird thing to say. So, too, is this: Kawhi Leonard is feverishly trying to join him.
Per ESPN.com's Adrian Wojnarowski:
Sources: As trade talks have unfolded, Kawhi Leonard's focus is unchanged: He wants to be a Laker. https://t.co/0wZGf5MrNt

— Adrian Wojnarowski (@wojespn) July 2, 2018
How badly does Leonard want to end up with the Lakers, you ask? Apparently very badly. Consider what ESPN's Stephen A. Smith said, via Michele Steele:
Stephen A Smith just reported league executives are telling him don't be shocked if Kawhi Leonard sits out NEXT season as well to get to LA – wowowowow.

— Michele Steele (@ESPNMichele) July 2, 2018
The above report gives off a very "Kyrie Irving threatened to have knee surgery if the Cavaliers didn't trade him" vibe. It would be honestly shocking if Leonard didn't play next year should he remain with the San Antonio Spurs. He doesn't really have the leverage to sit out. He only appeared in nine games for the 2017-18 campaign. Sitting out again, in advance of free agency, would crater his stock. This feels more like a leverage play—or rather, empty-leverage threat—than anything else.
It's tough to tell whether Kawhi and the Lakers have earned an advantage in negotiations with LeBron James. On the one hand, the Lakers can resist offering their best packages because the four-time MVP has apparently made it clear this is a long-term play. On the other hand, they just witnessed what happened with Paul George and the Oklahoma City Thunder. Sending Leonard somewhere else could result in him signing there long term.
That's the risk the Lakers run by not acquiring him. That hasn't changed, not even with the arrival of James. And that, in a way, works against them.