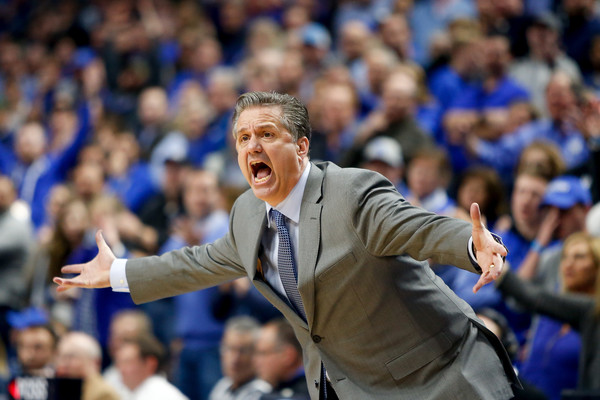 The case to end the NBA's one-and-done rule is getting support from an unlikely source: Kentucky men's basketball coach John Calipari, who more than anyone has seemed to master the recruiting hurdles that exist as a result of the one-and-done constraints.
Speaking with the Fort Worth Star-Telegram's Mac Engel, Calipari offered his endorsement of changing the rules currently in place:
"Kids should be able to go (to the NBA) out of high school. That's not our deal. That's between the NBA and the Player's Association," Calipari said in a conversation that took place in the office of TCU basketball coach Jamie Dixon. "Don't put restrictions on kids."
Calipari also said that he's spoken with the NBA Player's Association about the matter:
Calipari said he met with the NBA Player's Association one week ago, and implored that organization to create a "combine" for high school juniors. And he thinks agents should be more involved with high school kids.
It's borderline refreshing to this perspective from a high-profile coach—someone who has made an art form out of fielding powerhouses despite rampant NBA turnover. His stance on agents getting more involved with high school kids is particularly telltale. We don't see college coaches coming out and speaking in favor of models that would, in some form, compensate student athletes beyond their education. The topic is almost taboo—a gray area for coaches who are making millions and guiding those who, despite driving the revenue, are not.
Anyway, the NBA doesn't seem too much longer for the one-and-done rule. It's too progressive to leave it untouched. Many people are in favor of allowing kids to come out of high school, but requiring them to attend at least two years of college if they opt to delay their professional careers. Maybe it takes a few years to implement changes, but the NBA, and its players association, are bound to do something.