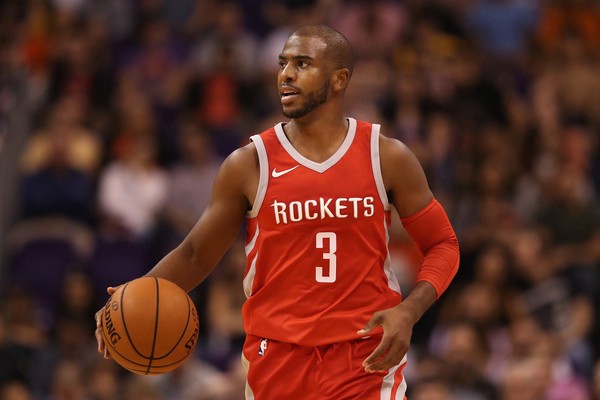 Chris Paul is injured again.
The All-Star point guard left early in the fourth quarter of the Houston Rockets' Wednesday night loss to the Los Angeles Lakers with what the team deemed a strained left adductor. And not only did he not return, but head coach Mike D'Antoni was unable to provide any clarity on his status moving forward, per the Houston Chronicle Jonathan Feigen's :
Rockets guard Chris Paul left Wednesday's game 51 seconds into the fourth quarter with a sore left leg.

Rockets coach Mike D'Antoni said Paul had an issue with an adductor muscle, which would not be related to the bruised left knee that kept him out for 14 games.

D'Antoni said he did not know about Paul's availability for Friday against the Clippers, Paul's former team.
Paul missed 14 games earlier this season with a bruised left knee and, incidentally, was only 14 games into his return before exiting on Wednesday. Though Houston should be thankful this adductor injury isn't related to his earlier setback, the news in general is hardly ideal.
Yes, the Rockets more than survived without Paul. And it's better for them to rest him up now if it means he'll be fresh for the playoffs. Plus, he's playing mostly great basketball the season. The Rockets were pumping in more than 120 points per 100 possessions with him on the floor entering their loss against Lakers, according NBA.com.
But all these small(ish) injuries amount to serious food for thought as general manager and company peer into their big-picture outlook. Paul turns 33 in May and has hardly been the most durable player over the past couple years. Should the Rockets really be peddling a max deal to keep him this summer when he enters free agency? It would be one thing to throw, maybe, a three-year max his way, with perhaps a team option or non-guarantee on the final year. But some team somewhere will probably go to four years, and the Rockets didn't trade for him under the guise he'll be a rental.
Perhaps we're getting ahead of ourselves. The NBA season hasn't yet reach its halfway point. Then again, Paul has just about missed half the season. His health the rest of the way is something to monitor, not just as it pertains to this year, but what it means for his long-term trajectory in Houston.