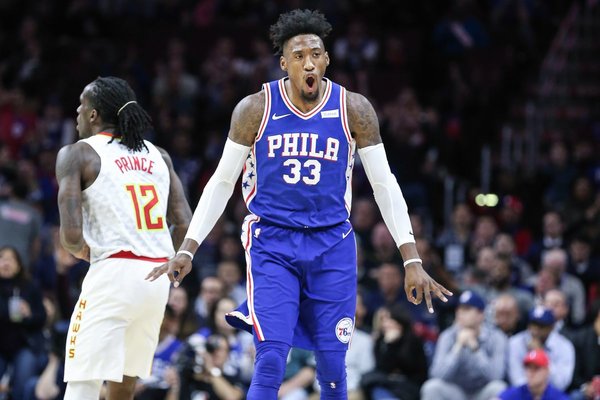 Another one of the Philadelphia 76ers' core members of "The Process" is about to get paid.
Joel Embiid was the first to secure a lucrative extension, albeit one with plenty of complex non-guarantees and performance-based incentives. Robert Covington will follow suit, though his deal will be significantly less absurd-sounding.
The 26-year-old became eligible for a renegotiate-and-extend with the Sixers on Wednesday, which essentially means they could broker an an extension that pays him more this season in addition to subsequent years. And according to ESPN.com's Adrian Wojnarowski, he and the Sixers are, as expected, about to reach common ground:
Philadelphia 76ers forward Robert Covington is finalizing a four-year, $62 million contract extension, league sources told ESPN.

Sixers general manager Bryan Colangelo and Covington's representatives with CAA Sports are expecting a signed agreement as soon as the end of this week, league sources said.

The deal will include a $15 million renegotiation bump on Covington's $1.57 million salary this season, plus an additional four years that will keep Covington under contract through the 2021-22 season.
Since $15 million—a number which eats into the Sixers' current cap space—will be tacked onto Covington's salary for this year, he's essentially signing a four-year, $47 million pact. And that's absolutely bonkers when you consider he's morphed into one of the NBA's most accurate three-point marksmen this season while maintaining his usual defensive flair.
The way this move is structured ensures the Sixers will have a relatively clear path to max cap space over the summer. Here's sample of what his yearly breakdown could look like:
Rough numbers for the Covington extension:
2017-18: $16,698,103
2018-19: $10,018,862
2019-20: $10,820,371
2020-21: $11,621,880
2021-22: $12,423,389

— Derek Bodner (@DerekBodnerNBA) November 16, 2017
All the Sixers really need to do at this point is renounce their other free agents. That'll get them to $30-plus million in breathing room. And they can drum up even more if they find a taker for Jerryd Bayless' deal.
Regardless of how much cap space the end up with, though, the verdict is in: With this deal, along with Embiid's, it's a good time to be a Sixers fan.