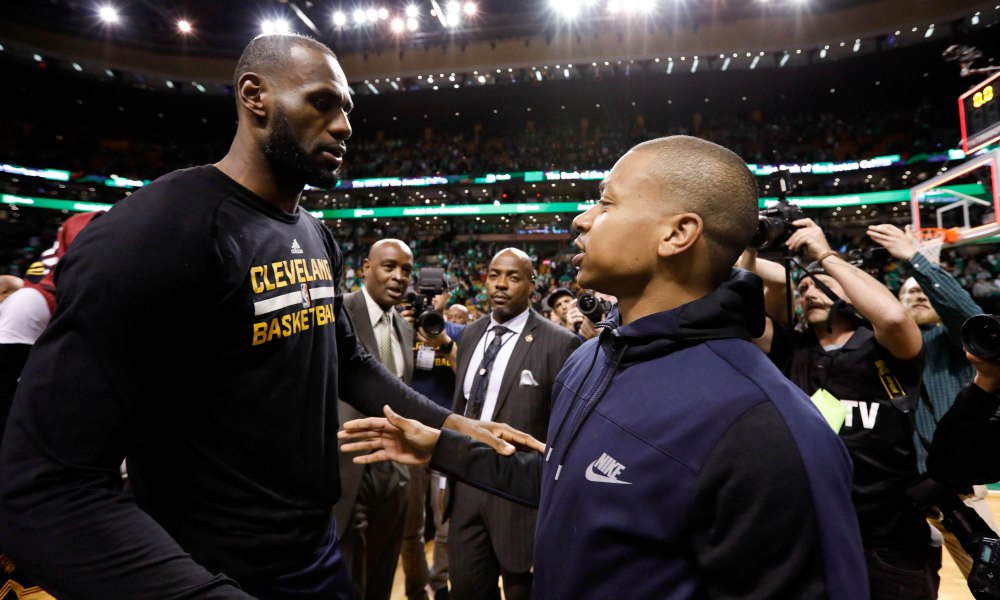 LeBron James is ready for Isaiah Thomas to take the court.
That's not happening anytime soon, of course—at least not for a few weeks. The point guard has missed every game so far this season after joining the Cleveland Cavaliers as part of the Kyrie Irving trade with the Boston Celtics. He needs to get healthy before he can be part of the rotation.
And boy, oh boy, is James ready for him to get right. As he told Bleacher Report's Howard Beck:
"It's been a while since I've had that clear-cut guy who can get guys involved but also score at the same time," James told B/R Mag. "But it's fine. It's something that our team will make an adjustment to."
If you listen real hard, you can hear Dwyane Wade crying; Jose Calderon cursing in Spanish; Derrick Rose quarter-heartedly talking about his inevitable return to MVP form; and Kyrie Irving delivering some philosophical quote that makes zero sense:
"the meadow isn't always greener or more fertile on the neighboring concrete knoll. we can only ever be truly happy when we accept that the divine abodes of utopia are erected between the ears."

-Kyrie Irving, after hearing LeBron's comments about Isaiah Thomas https://t.co/CXrzBHu0A7

— Dan Favale (@danfavale) November 14, 2017
Was LeBron throwing shade at Irving? Or was he really just saying it's "a while" to convey how much time has passed since last season?
It really doesn't matter, because he's mostly right. The Cavaliers need another playmaker—someone who melds shot creation with distributing and a good body of off-ball work. They don't have anyone who comes remotely close to fitting that bill outside James.
Rose is neither a good passer nor spot-up shooter. He's not really a good finisher around the rim, either. He's also not healthy. Wade can still score some, and he's an okay passer. But he's not a viable off-ball weapon. Jose Calderon can hit threes and set up his teammates, but he's not quick enough to make defenses pay while doing much of anything.
Thomas is the only one on the roster who checks all those boxes. He led the league in drivers per game last season, according to NBA.com; is a better playmaker than Irving was last year; and knows how to fire off the catch. His 5'9″ frame won't do anything for the Cavaliers' league-worst defense, but their offense isn't anything to celebrate right now, either. And even if it was, the results are coming on 38-plus minutes per game from LeBron. He needs a break, not to mention the additional option, that only Thomas' return will provide.