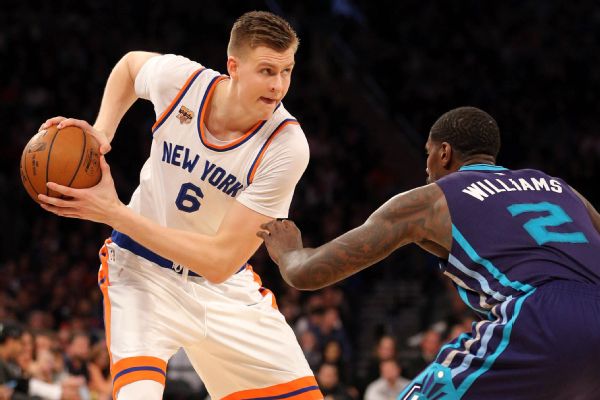 Deep breaths, New York Knicks fans.
Your notoriously inept team has no plans to dangle Kristaps Porzingis in a deal for Kyrie Irving.
From Newsday's Steven Marcus and Mike Rose:
The Knicks don't appear interested in trading Kristaps Porzingis, including a possible deal for Cavaliers All-Star point guard Kyrie Irving, according to a league source. . . .

"[Knicks president] Steve Mills and [general manager] Scott Perry on the record were very clear that Kristaps was part of the future," a source told Newsday. "In all the discussions since then—there were other rumors before that Cleveland would want Kristaps—and it didn't seem that [the Knicks] were interested at all in a conversation."
This update comes on the heels of ESPN.com's Adrian Wojanrowski noting the Cleveland Cavaliers have targeted Porzingis as a potential return in any Irving deal. Their ambitions are understandable. Irving is a 25-year-old All-Star. They should be pursuing a monster return.
But they aren't going to get it. Not from the Knicks. Not if said monster return consists of Porzingis.
New York's unicorn shouldn't even be remotely on the table in talks. Not for a player like Irving. The 22-year-old has the ability to be a superstar on both ends of the floor, whereas Irving is very clearly a one-way player. Two-way potential doesn't have to trump established star power, but Porzingis is only entering his third season, He's on his rookie scale deal. Assuming the Knicks don't screw up the extension/restricted free agent process, he should be under team control for the next six to seven years.
Irving, meanwhile, will be a free agent in 2019 (player option). Guaranteeing yourself two years of him isn't worth giving up on Porzingis—not even if you're getting rid of Joakim Noah's deal in the process.