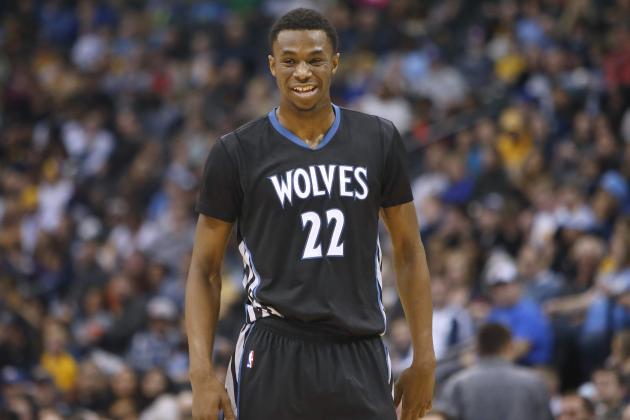 According to a report from ESPN.com Thursday morning, the Minnesota Timberwolves and Andrew Wiggins are working on a five-year, $148 million extension.
Andrew Wiggins, T-Wolves negotiating 5-year, $148 million contract extension https://t.co/pS0EEYoWeg pic.twitter.com/pcGRAjfTxn

— Bleacher Report (@BleacherReport) July 20, 2017
The organization and Head Coach Tom Thibodeau announced they were working on an extension Wednesday, but the numbers for a potential deal weren't reported until this morning.
According to NBA rule, in order for this deal to get done, it would have to be signed one day prior to the start of the 2017-18 season, otherwise he would need to be re-signed as a restricted free agent next summer.
The reported deal would pay Wiggins $25.5 million for the 2018-19 season, a hefty salary, but one that is warranted given the fact that he is a budding 22-year-old star that averaged 23.6 points per game last season and improved his shooting percentages across the board.
One area of Wiggins game that needs to improve drastically though is on the defensive end, as in spite of his extreme length and athleticism, he was one of the worst defenders in the NBA last year by the advanced numbers, and his defensive rating was a -2.9 last season.
One would think Thibodeau is the coach to correct and improve that as that is his specialty. There is no reason Wiggins can't become at least an average defender.
The Timberwolves will try to end their 12-year playoff drought this season and with Karl Anthony Towns, Andrew Wiggins and Jimmy Butler, they should have a bright future as contenders in the western conference.