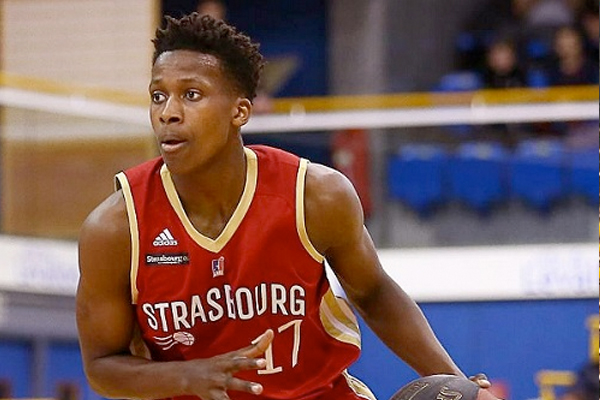 The New York Knicks draft selection is always a huge deal as the draft is held in the Big Apple each year and the long-suffering and passionate New York Knicks fans have no problem giving their instant reaction to the selection.
The Knicks find themselves with the No. 8 pick in the 2017 NBA Draft and it seems as though they have their eyes set on drafting a guard, players such as Kentucky's Malik Monk, N.C. State's Dennis Smith, Duke's Luke Kennard and French point guard Frank Ntilkina appear to be likely options for them.
According to New York Daily News Knicks Beat Reporter Frank Isola, the Knicks may have already locked in on their guy.
The Knicks have had a scout in Europe babysitting Frank Ntilikina. As of now, he's their man.

— Frank Isola (@FisolaNYDN) June 15, 2017
While there is plenty of hot air being thrown around this time of year, this makes it seems pretty likely the Knicks are pretty committed to drafting the French point guard.
Ntilikina is a 6'5″, athletic point guard with an incredible 7'0″ wingspan and the potential to be a good two-way player. He is still very raw, but he has shown an aptitude for running a pick-and-roll. He appears to have natural point guard instincts to go along with his obvious ability to be a lockdown defender and one would assume, (let it go Phil Jackson) run the triangle.
For my money, a flashy and entertaining freak athlete of a point guard in Dennis Smith Jr. makes sense under the bright lights if he falls to No. 8, but Ntilikina may help you win games more down the line.
Knicks fans be weary, the last time the Knicks took a Frenchman in the 1st round of the NBA Draft in 1999, he was basically only known to basketball fans as the guy who Vince Carter jumped over for the greatest in game dunk of all-time in the 2000 Summer Olympic Games in Sydney…
el mejor mate de la historia en partido Vince Carter dunks over Frederic Weis in the 2000 Olympics #NBA https://t.co/RQXH353o4o

— Manuel Mateo Diaz (@osopinoso) January 27, 2017