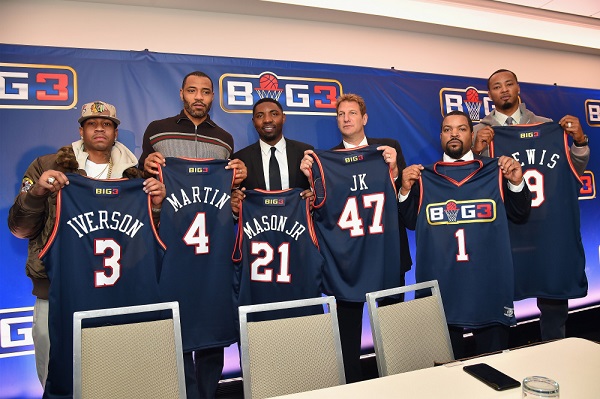 As I am sure most basketball fans have heard by now, Allen Iverson and Ice Cube have partnered to create the "Big 3" League, which is a competitive 3-on-3 basketball league to be played around the country over the summer and feature a number of retired NBA players as players and coaches.
Some names involved with the league include Chauncey Billups, Rashard Lewis, Kenyon Martin and Jason Williams among others as players, and Gary Payton and Charles Oakley as some of the more notable coaches.
The league starts on June 25th and ends on August 26, and will feature half court 3-on-3 games with normal basketball rules including the addition of a 4-point line where teams will play to 60.
These games will now be broadcast on FS1 (Fox Sports One). Here is league founder Ice Cube's comments on the partnership:
"We are very excited … we've been waiting for this day. It's extremely exciting to be here with FOX Sports," Cube said. "They definitely see the picture and see the great things we are trying to do."
Here is a statement from Charlie Dixon, FOX Sports EVP of Content/Original Programming:
"It will be appointment viewing for any basketball fan, showcasing star-power, fiery personalities and classic matchups on the court."
Will NBA fans tune in? As a kid who grew up watching and rooting for many of these players, I will at least tune in to check it out.