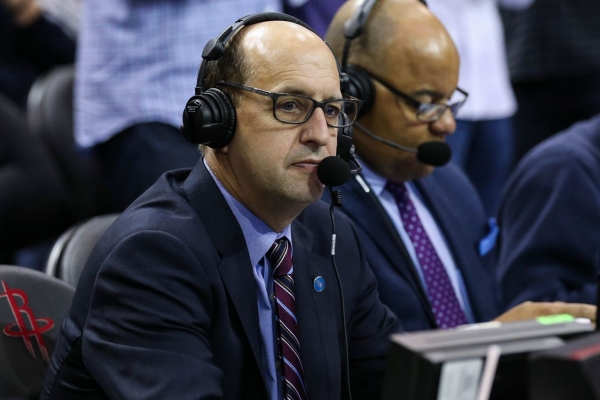 Jeff Van Gundy is higher on the new-look New York Knicks than Las Vegas.
Currently, the over/under on New York's win total for this season is 38.5. The Knicks clearly won't be happy if that proves accurate. Improving by only five or six wins after adding Derrick Rose, whose civil trial for sexual assault begins on Oct. 4, Joakim Noah, Courtney Lee and Brandon Jennings would be a demonstrative failure.
The Knicks needn't fret, though. Van Gundy, their former head coach and now an NBA analyst with ESPN, believes they have what it takes to obliterate the over/under. As he said on The Stashed's "33rd & 7th" podcast with Anthony Donahue, per ESPN.com's Ian Begley:
"It's not easy," Van Gundy, an ex-Knicks coach, said during an interview on The Stashed's "33rd & 7th" podcast with Anthony Donahue. "Listen, I think they're going to be 45 to 50 [wins], low 50s, in that range."

"I think there's a lot [of factors] that are sure things," Van Gundy continued. "I think [Joakim] Noah is going to be a sure thing as far as how he plays. [Kristaps] Porzingis is going to have a better second year than he had as a rookie. I think he'll be outstanding. [Carmelo] Anthony I think is going to be very, very good. Courtney Lee is going to be excellent as a glue type of guy in their starting lineup.
To Van Gundy, and the Knicks', credit here, you can totally envision a scenario in which this team is good.
What if Rose stays healthy and becomes a pass-first point guard? What if Noah stays healthy and recaptures his Defensive Player of the Year form? What if Carmelo Anthony gets to spot up for open threes all game long? What if Kristaps Porzingis makes a sophomore leap? What if Brandon Jennings has no problems moving about the court following his Achilles injury? What if Lance Thomas stays healthy and plays like he did last season? What if they hit on overseas prospects Mindaugas Kuzminskas and Willy Hernangomez?
What then?
Great things will happen.
Problem is, there shouldn't be this many questions—not for a quality team. Too much of the Knicks' appear is tethered to what-ifs and unknowns. Those issues won't all be resolved in their favor. It will take all the luck in the world for them to experience their best-case scenario, and even then, their ceiling is inherently limited by a lack of depth.
Could the Knicks win around 50 games?
Absolutely.
Will they?
Don't hold your breath.