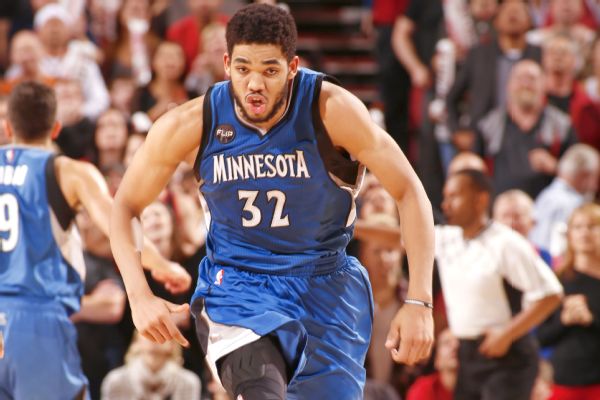 Karl-Anthony Towns just followed in Stephen Curry's footsteps.
Sort of.
Just like the Golden State Warriors point guard unanimously won the NBA's 2016 MVP award, the Minnesota Timberwolves neophyte wrapped up 2016 NBA Rookie of the Year honors without facing any real challenger:
Minnesota @Timberwolves Forward @KarlTowns named UNANIMOUS @Kia NBA Rookie of the Year! #KiaROY pic.twitter.com/RyOf48K8Ek

— NBA (@NBA) May 16, 2016
Marc J. Spears of The Undefeated provided a snapshot of the voting results:
T-Wolves @KarlTowns is the unanimous 2016 NBA Rookie of the Year. The following is the voting results: pic.twitter.com/g1YFeSi2p6

— Marc J. Spears (@MarcJSpearsESPN) May 16, 2016
So yeah, this wasn't even close. Nor should it have been.
Towns dominated the rookie landscape from start to finish in 2015-16. He was a borderline All-Star during his first year in the league. He was that good.
Most of the advanced stats love him. But if you're into basic context, consider this: Towns is just the fourth NBA rookie to ever average at least 18 points, 10 rebounds, two assists and 1.5 blocks per game, according to Basketball-Reference.
His company?
Tim Duncan, David Robinson and Ralph Sampson.
Should Towns remain healthy, he will be Hall-of-Famer. Seven-footers don't typically combine his defense and post play, with his jump shot and handles. His work ethic is superhuman, he is a rebounding machine and his passing abilities will continue to progress as he gets older.
This is an all-time talent just starting out. So yes, he deserved unanimous Rookie of the Year dap. Neither of his closest competitors, Kristaps Porzingis (distant second) or Nikola Jokic (super distant third), actually came remotely close to rivaling his performance. And that's something we should expect to say a lot in the seasons to come.