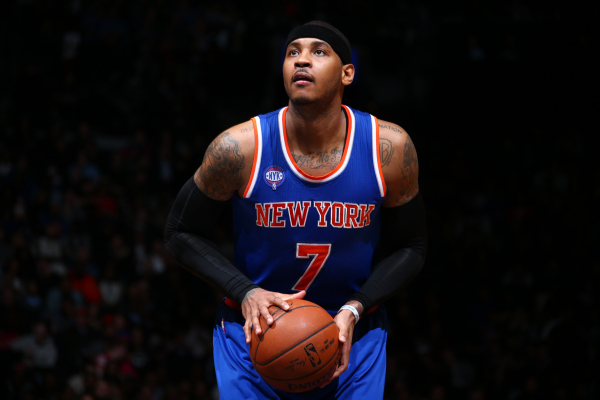 Carmelo Anthony still wants to have some input on who the New York Knicks hire to be their next head coach.
But, at this point, it feels like Jackson has other plans.
Melo sat down with Russ Bengtson over at Complex Sports to shed some light on New York's coaching expedition, and he offered the following:
The Knicks obviously need a coach—if you could have literally anybody be the coach next season regardless of contract situation or anything else, who would you want?
I don't know. For me, man, it's hard to narrow it down to just one person. I just want to see the proper procedure gone through, the proper process, we give everybody a shot to come in and say what they have to say and see if you like that person or not. So it's hard for me to say I want this person or I want that person.

Do you want to be part of that process?
Oh yes, for sure. Because you gotta think about it, this is gonna be a long-term journey of playing and you consider me being part of that plan then I would want to know what's going on.

…

Is there any one particular thing that stands out—what makes a good coach for you?
I think being able to hold guys accountable, but also having a relationship with the player. Kind of seeing things from a players' perspective as well as a coach's perspective. I think if you can build that camaraderie between a coach and a player, I think you're onto something.
This does not sound like a player who has been kept in the loop. This sounds like the same player who publicly endorsed Tom Thibodeau, now coach and president of the Minnesota Timberwolves, but didn't give the appearance of knowing whether the Knicks even considered him.
Such is life in New York right now.
If Phil Jackson truly valued Carmelo Anthony, his lone superstar, he would keep him informed of his coaching and free-agency plans. Even if he doesn't want to take Melo's preferences seriously, there is still value in letting him have a voice within the organization rather than outside it.
This is why the "Phil Jackson is trying to push Carmelo Anthony to waive his no-trade clause" rumors and conjecture exist. Jackson has, by default, fanned those flames because it's still unclear whether he actually values Anthony as a player or person. And that's not a good look for a franchise hoping to eventually appeal to other superstars. The Knicks already have one in Anthony, a megastar who wants to remain in New York, and they are, by all appearances, failing him.