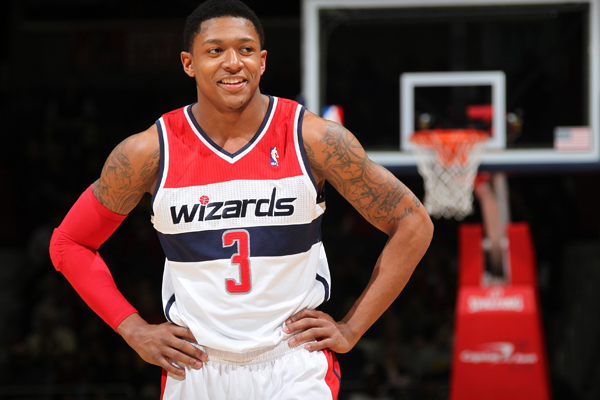 Is Bradley Beal a max-contract player in today's NBA?
Bradley Beal sure thinks so.
As he told the Washington Post's Jorge Castillo:
"I want to be valued the right way," Beal, 22, said from Japan, where he visited as part of a promotional tour for the NBA and attended a playoff viewing party with fans. "I feel like I'm a max player and that's what I'm looking for. If Washington can't meet that requirement then I may be thinking elsewhere. I'm pretty sure that they probably won't [let me go]. At the end of the day, that's where I want to be. I think a deal will probably get done but you just never know."
I now pose this question to those of you who aren't Bradley Beal.
Is he a max-contract player?
In a vacuum, no. He can shoot and score and pass, and his shot selection has improved. But he isn't yet a demonstrative offensive plus, he hasn't established himself as a lockdown defender, like many thought he would, he has struggled to remain healthy since entering the NBA, and his performance appears to have peaked for the time being, a la his 2015-16 numbers.
In this crazy new salary cap climate, however, Beal is absolutely a max player. If the Washington Wizards don't hand him that deal, another team will. There will be that much money floating around the NBA this summer, and players inferior to Beal will enjoy max offers. Some have even speculated that Bismack Biyombo—Bismack Biyombo—will get a max deal, though it would most likely be a short-term pact.
And if that's going to happen, or there's even a possibility that could happen, of course Beal will get the contract for which he's looking. Besides, at this stage of his career, coming off his rookie scale deal, teams aren't paying you so much for what you've done as they are for what they think you're capable of doing. And even now, having ostensibly plateaued, Beal maintains that type of ceiling.