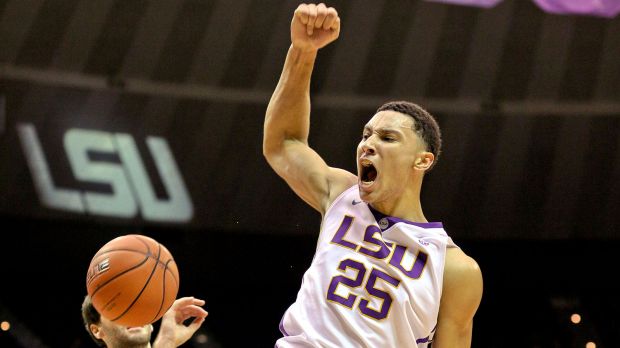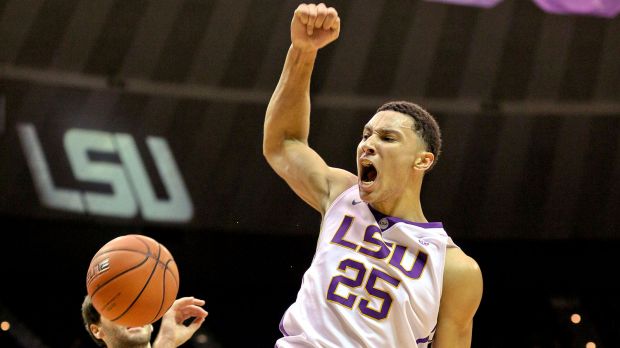 According to Bleacher Report Reporter Kevin Ding, the 76ers are leaning heavily toward drafting former LSU power forward Ben Simmons with the number one pick of the 2016 NBA Draft.
76ers reportedly "leaning heavily" toward taking Ben Simmons, according to @KevinDing https://t.co/hplgjurD2H pic.twitter.com/edQPVk7wT9

— Bleacher Report (@BleacherReport) May 18, 2016
The 76ers won the NBA lottery Tuesday night and will be drafting no. 1 for the first time since 1996 when they took Allen Iverson.
Simmons was the number one recruit coming out of high school and was seen as the unquestioned number one pick until the final few months of the college basketball season when fellow super freshman Brandon Ingram of Duke emerged as a potential candidate to be the top pick.
Simmons averaged 19-12-5-2 on 56% shooting in 33 games but failed to lead the Tigers to the NCAA Tournament which hurt his draft stock.
Simmons is the rare 19-year-old with a fully developed NBA physique that at 6'10" can play as a point forward and be the lead distributor of an offense with his rare quickness, ball handling and passing ability for a player of his size. He projects somewhere between a young Lamar Odom and LeBron James and could be a Draymond Green type player if he can develop a more reliable jump shot.
In my opinion he has the highest ceiling and is the most talented player in this year's draft, but would be a weird fit on a 76ers roster that already features Nerlens Noel, Jahlil Okafor, Joel Embiid (if he's ever healthy) and potentially Dario Saric, a stretch four from Croatia.
Ingram seems like the more natural fit for the 76ers as his ability to shoot the ball and be a go to scorer aligns more with what the 76ers are lacking. The best fit in the draft for the 76ers honestly would be Providence Point Guard Kris Dunn in my opinion with his elite size and play-making ability as a 6'4″ point guard.
There is a lot that can happen between now and June 23 when the 76ers are officially on the clock. It will be interesting to see if the take they best player on the board and try to make it work with Ben Simmons.