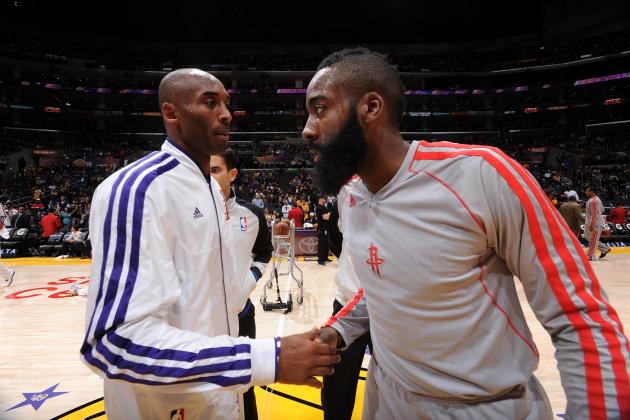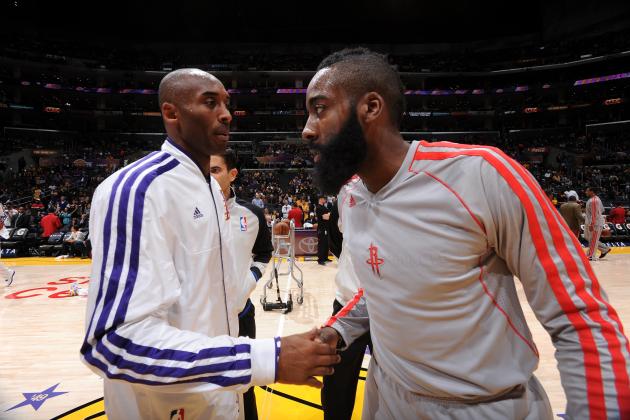 James Harden has asked Kobe Bryant for a favor.
Following the Houston Rockets' 130-110 shellacking of the Los Angeles Lakers on Sunday, Harden and Kobe shared a private a moment, per Mark Berman of Fox 26 in Houston:
James and Kobe after Bryant's last game in Houston. #Rockets pic.twitter.com/jU8FIF26lH

— Mark Berman (@MarkBermanFox26) April 10, 2016
All of us are always wondering what happens during these postgame confabs between stars, especially whenever one of them is Kobe. So, naturally, someone asked Harden about his exchange with the Lakers' shooting guard, which is where his favor comes in:
James Harden on speaking w/Kobe: "It means everything,him embracing the city of Houston & a side note I told him we need y'all to beat Utah"

— Mark Berman (@MarkBermanFox26) April 10, 2016
James Harden is referencing the Lakers' Wednesday night tilt against the Utah Jazz, the last of Kobe's career. The Rockets are currently one game behind the Jazz for the Western Conference's eighth and final playoff slot, and they need all the help they can get.
Both Houston and Utah have two games remaining. The Rockets play the Minnesota Timberwolves and Sacramento Kings and must finish with at least the same record as the Jazz, since they own the necessary tiebreaker. If they go 2-0, they need Utah to 1-1. The Jazz will play the Dallas Mavericks and Lakers to close out the year.
Technically, then, the Lakers don't need to beat the Jazz. But it would make the Rockets' lives a helluva lot easier if they do—especially if Utah also falls to Dallas beforehand. That would allow Houston to go 1-1, and then clinch a playoff berth.
It's fitting that Kobe's final game will have playoff implications.
It's ill-fitting that those implications will have no bearing on the Lakers themselves.
Welcome to 2016.