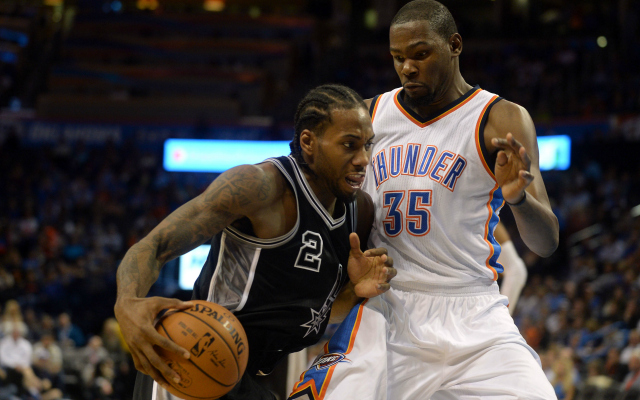 The second round match-up between Kawhi Leonard's Spurs and Kevin Durant's Thunder promises to be a good one. The favorites heading in are the Spurs, but don't tell OKC that. They're more than capable of advancing past the Spurs. And in all actuality, given Kevin Durant's pending free agency, this may be the last time the Thunder are together as currently constructed, so no time like the present.
Kevin Durant will have the task of trying to score on the two-time, and reigning, defensive player of the year, Kawhi Leonard. KD's length poses issues for many defenders, but Kawhi is very rangy as well. Should be a great 1-on-1 match-up as far as that's concerned.
And KD realizes he has his hands full, as he has nothing but praise for Leonard heading into the series.
Durant recognizes the Leonard Oklahoma City is about to square off against is much more. In fact, Durant is so impressed that he checks how Leonard performs each game.

"He's grown so much," Durant said. "He's probably the best in the league at shooting the mid-range (jumper) off the dribble. He posts up, dribbles, can shoot the three, catch and shoot. Their team, their system, their continuity and how they move allows him to get free a lot of times and utilizes his game."
H/T: yahoo