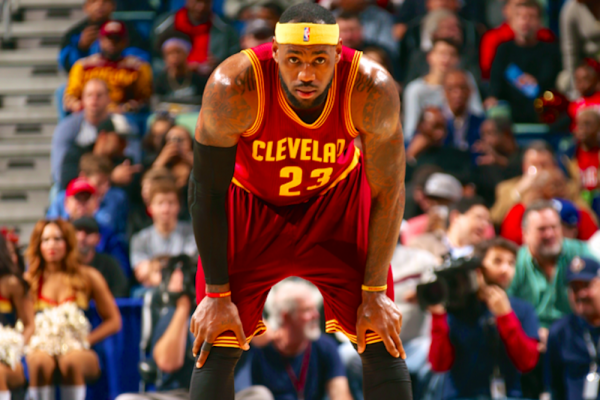 LeBron James is no longer inoculated against criticism within the Cleveland Cavaliers' organization.
Since when?
Since right now.
According to Cleveland.com's Joe Vardon, both general manager David Griffin and head coach Tyronn Lue talk to LeBron about his recent behavior, which includes fraternizing with Dwyane Wade during the Cavaliers' blowout loss to the Miami Heat, as well as James opening up about his desire to play with Carmelo Anthony, Chris Paul and Wade.
Here's Vardon with the deets:
Lue spoke with James after Saturday's 122-101 loss in Miami, during which at halftime James was noticeably chatting it up with his friend, Heat star Dwyane Wade, instead of warming up with the Cavs trailing by 21.

Griffin replaced former coach David Blatt with Lue in part to demand more accountability from James — which the player covets — and their chat was an example.

Griffin's talk with James on Wednesday afternoon was a little more general, but was sparked by James' comments to The Bleacher Report that he wanted to play with Carmelo Anthony, Dwyane Wade, and Chris Paul on the same team for a "year or two."

Lue said James apologized to him for his behavior at halftime Saturday night, and Griffin's discussion with James was positive and productive, with James echoing recent public statements about an upward trend for the Cavs heading into the playoffs.
There's pretty much nothing to see here. If anything, this is a good sign. LeBron probably wants to be challenged. That was one of the knocks against former head coach David Blatt, after all—that he wouldn't reprimand or single out LeBron when the situation called for it.
Which isn't to say it's all well and good in Cleveland. It's not. The Cavaliers laid an egg on Thursday night against the Brooklyn Nets. LeBron received no help from his supporting cast, and the Cavs were subsequently pummeled.
Consistency night in and night out needs to be a focus of this team ahead of the playoffs. If the Cavaliers don't settle into a groove, they can forget about making it out of the Eastern Conference, let alone winning an NBA title.