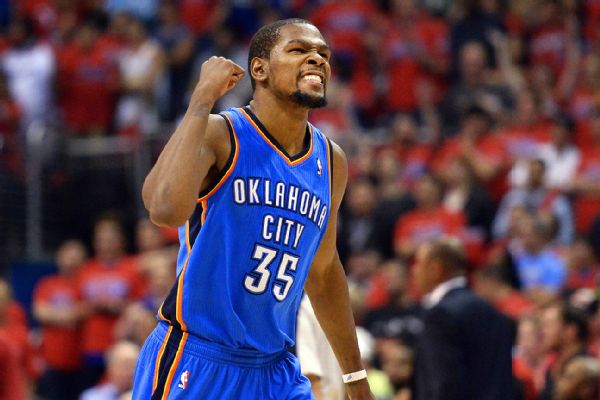 Kevin Durant has been relatively mum on the free-agent front this season. He, like many before him, isn't entertaining the same "are you leaving or staying?" questions every freaking night.
Reports have instead needed to get creative in asking Durant free-agency questions. The latest came in Boston, ahead of the Oklahoma City Thunder's Wednesday night drubbing of the Celtics, per Anthony Slater of The Oklahoman:
The non-free agency kinda sorta free agency question KD gets a ton, Boston version:"What do you think of this city?" pic.twitter.com/1w5Ku11Y85

— Anthony Slater (@anthonyVslater) March 16, 2016
There you have it. Kevin Durant doesn't hate Boston.
It's the only answer he could have given. He could have said he hated Boston, but no free agent in their right minds is going to eliminate one of the biggest potential players before reaching the open market. And, besides, the Celtics might actually catch Durant's attention. There are only a handful of teams that can argue they'll be able to challenge the Golden State Warriors with Durant in the fold, and Boston, which is already fighting for a top-three Eastern Conference seed as currently constituted, is one of them.
What's really tiring is the questions themselves. Beat reporters at Durant's every stop have to ask them. It's their job. Even if they know they're going to get stymied, someone for some outlet has to ask.
My proposal? They get a little more inventive in asking obvious questions that invite obvious answers:
@KLChouinard Or at least get creative.

"Would u rather sign w/ Team X, or go nude spelunking w/ Kendrick Perkins every week for next 5yrs?"

— Dan Favale (@danfavale) March 16, 2016
Let's make it happen, people.