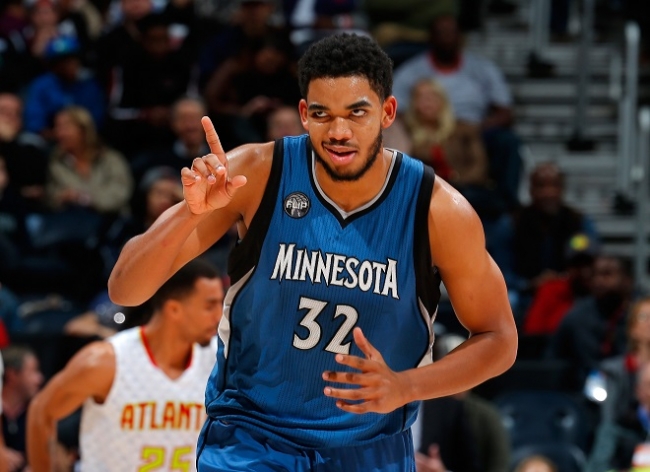 It should be clear to anybody not too wrapped up in the Porzingis mania that Karl-Anthony Towns is living up to his billing as the number one draft pick. He is easily the best rookie in the NBA this season.
Through 48 games Towns is averaging 16.6 points, 9.9 rebounds 1.8 blocks and 1.4 assists while shooting 85-53-39 from the field in 29.8 minutes per game.
These are highly impressive numbers that make it clear that the T-Wolves made the right decision when drafting Towns.
When you take a deeper look at advanced statistics though you see that Towns is having one of the better rookie years the league has ever seen.
He is a +1.2 in offensive plus/minus and a +1.5 in defensive plus/minus despite playing on one of the NBA worst teams.
His current Player Efficiency Rating of 22.6 would be the third highest PER rating for a rookie in NBA history, trailing only Shaquille O'Neal at 22.9 and David Robinson at an incredibly impressive 26.3.
Although he may not have the allure of playing in the mecca of basketball like Kristaps or have multiple rap videos made in his honor…
Porzingis got the Latvian rap community really excited ?????6???? OLAS – KEEP CALM LIKE KRISTAPS PORZINGIS #NBAVote https://t.co/0taXgHjtee

— #IJustWannaMakeIt (@CashWalken) January 27, 2016
Kristaps PORZINGIS rap song translated (with subtitles) – YouTube https://t.co/LvNLVLkgTf

— Tim Rolfes (@trolfes) January 22, 2016
Or a right hook like Jahlil Okafor…
.@TMZ_Sports has the footage from Jahlil Okafor's bar fighthttps://t.co/8E9VugLjCF

— FS1 (@FS1) December 1, 2015
Karl-Anthony Towns is more than likely the gem of this draft and could be an all-star caliber player or better for the next decade.