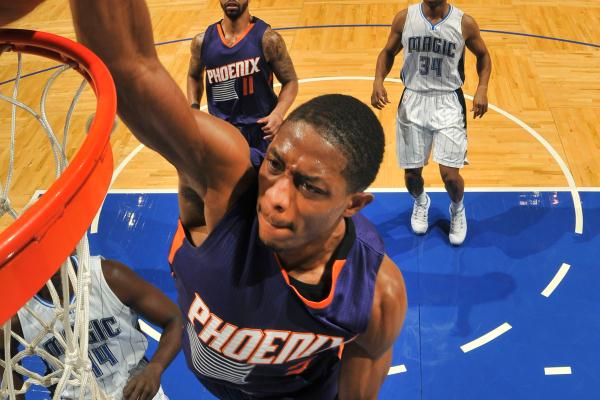 Ben Simmons Phoenix Suns jerseys are about to become a thing, assuming they aren't already taking the city by storm.
Eric Bledsoe is done for the season after suffering a torn meniscus; Tyson Chandler is playing his age; Markieff Morris is either playing terrible, injured, in head coach Jeff Hornacek's doghouse or all three; the Suns, as a collective, are hovering around the bottom five in offensive and defensive efficiency; and they are tied for one of the Western Conference's two-worst records.
Now they're losing Brandon Knight for a few games with a groin injury, per AZCentral Sports' Paul Coro:
Suns guard Brandon Knight is out for the Suns' upcoming four-game road trip due to a groin injury that sidelined him for the past two games.

Knight initially began feeling a groin issue after the Dec. 31 loss at Oklahoma City but aggravated it on a dunk in Tuesday's home loss to Indiana. He finished that game but missed Thursday's loss to San Antonio and Saturday's win against Atlanta. In between those games, Knight traveled to Los Angeles to get a second opinion on the groin strain, also known as a sports hernia.

Knight, 24, might seek another physician's opinion before proceeding. He said Saturday that he was "definitely encouraged" by the second opinion he received through a doctor visit arranged by his agent. It was believed that the injury could be handled through treatment, although Knight said it was limiting all of his movement.
The aforementioned road trip includes tilts against the Philadelphia 76ers, Cleveland Cavaliers, New York Knicks and Dallas Mavericks. The Suns return home to face the Toronto Raptors on Tuesday, February 2nd.
Knight isn't going to save them from their ill-fated finish. That's set in stone by this point. The Suns have also been statistically better without him on the floor this season, though their offense does dip in efficiency, according to Basketball-Reference.
Anyway, what I'm trying to say is: Get ready for more Devin Booker!
And probably some Lorenzo Brown!
And most definitely way too much Ronnie Price!