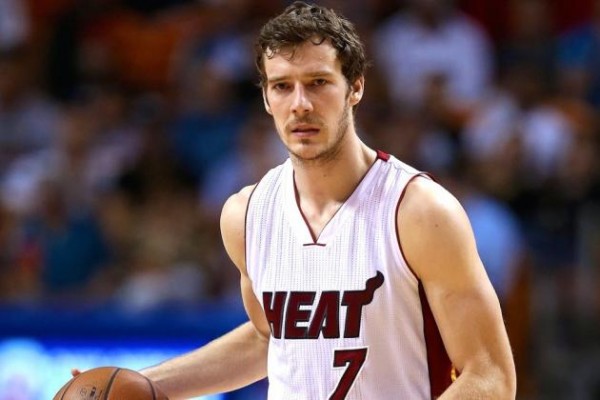 Goran Dragic does not miss playing for the Phoenix Suns.
Amazing how far we've come, isn't it?
Dragic sort of revived his career in Phoenix, permanently establishing himself as a star talent at the point guard position during the Suns' surprising 48-win 2013-14 campaign. But then that season ended. The Suns not only re-signed Eric Bledsoe, another star-level floor general, but they traded for Isaiah Thomas.
It seemed like an interesting idea on the surface. Suns coach Jeff Hornacek wasn't afraid to run with all three point men at once, and Phoenix, while a defensive liability in those situations, blitzed the opposition with breakneck pace.
But that model also took touches away from everyone, and when it became clear the Suns wouldn't be matching their 48-win total from 2013-14, everything imploded. Dragic publicly demanded a trade, one the team granted. The Suns also moved Thomas to the Boston Celtics and brought in yet another point guard in Brandon Knight. Now their roster is in shambles again.
Markieff Morris still isn't happy that the Suns traded his brother, Marcus, to the Detroit Pistons. He barely plays anymore, and Phoenix, right up to owner Robert Sarver, hasn't been shy about publicly ripping him to shreds. And on top of all that, Tyson Chandler, whom the Suns inexplicably signed to a four-year deal, is playing angry, and Bledsoe is done for the season after having surgery on a torn meniscus.
Losers of nine in a row, the Suns are screwed. Public perception of the organization isn't good, and that doesn't bode well for a team that's recently tried its hand at becoming a free-agency player (see: interest in LaMarcus Aldridge).
None of which surprises Goran Dragic, who expressed low-key disdain for the Suns and the way they conduct business while speaking with Yahoo Sports' Michael Lee:
Dragic is too concerned with his own adjustments in helping Miami regain a spot among the Eastern Conference elite to be overly consumed with the situation in Phoenix. But he has his own theory for why a franchise that seemed so promising is suddenly foundering, based on his own experience with the Suns.

"It feels like they're always changing something," Dragic told Yahoo Sports. "They're not like Miami, San Antonio, those teams that are really loyal when they find something."
One player's opinion doesn't define an organization, but there's some merit to what Goran Dragic verbally peddles.
In addition to losing the faith of someone considered their franchise point guard, the Suns struggled to hash out a new deal with Bledsoe in 2014, they clearly rubbed Isaiah Thomas the wrong way and now they're fighting a pointless battle with Markieff Morris.
Phoenix is in trouble. Its balancing act, one that tries to complement rebuilding with competing, has always been shaky, and now, amid very public turmoil, the team's direction is being blown straight to hell.