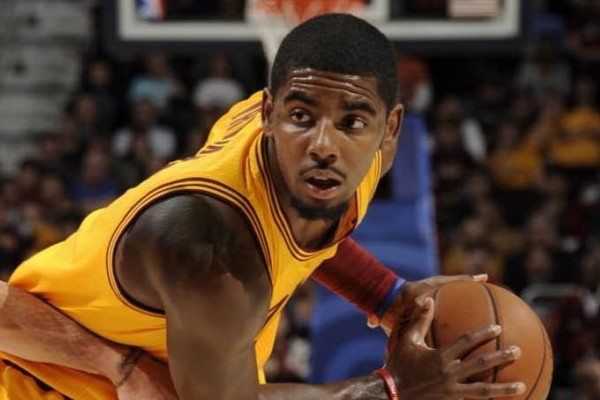 Kyrie Irving isn't OK with people who aren't OK with his injury history.
The Cleveland Cavaliers point guard has yet to play this season as he continues to recover from a fractured kneecap that he suffered in Game 1 of the NBA Finals. Beyond that, the 23-year-old has dealt with more than his fair share of injuries. Including the first 10 games he's missed in 2015-16, Irving has now been absent for 56 of a possible 312 regular-season contests. That's nearly 18 percent of his entire career, and that number is only going to rise for now, as he isn't expected back in Cleveland's lineup anytime soon.
It would be very easy, then, to declare Irving injury-prone. Young guns like himself aren't supposed to miss that much time. And though most of his injuries appear unrelated, some guys are just magnets for misfortune.
Irving does not believe he's one of those guys, nor does he believe anyone else is justified in defying him.
Matt Moore of CBS Sports relayed Irving's thoughts on the matter, which he divulged while making an appearance on the Doug Gottlieb Show on CBS Sports Radio last week:
"Everyone's going to formulate their own opinions based on injuries," Irving said. "You think about injuries whether they have them when they're young, or old, or in the middle, it's part of the game. For me, I know exactly what I'm doing in the weight room and exactly what I'm doing to prepare myself for the court, and if something happens, that's just part of the game. If I go out there and bump knees with someone and get a knee contusion and have to miss a game, and then I sprain my ankle, those aren't things that can be planned. You just do the best you can to prevent it.

"For me, everyone putting in the notion of breaking down, I'm nowhere near close to breaking down I can be completely honest with that. I'll just let my game on the court and my work ethic speak for all that. I'll never not put myself in a position to be successful for my teammates and for my organization. I could see if I wasn't putting in 100 percent effort in doing everything possible to prevent injuries, then cool, everyone can have their opinion and I'd start believing it. But no way will I start believing that my body will break down and I can't be better every single year."
This isn't an unfair assessment on Irving's behalf.
First of all, NBA superstars rarely concede anything negative. That's what make them superstars. They're confident in themselves and their abilities and their bodies, even if overly so. You won't catch Derrick Rose admitting bodily defeat after all he's been through; you shouldn't expect Irving, an All-Star when healthy, to do anything different.
The jury might still be out when it comes to Irving's health, but that's about it. He appeared in 75 games last season and in 71 the year before that. And if Game 1 of the NBA Finals never goes into overtime, maybe Irving never injures his knee. Maybe he finishes the series. Maybe he's on the court right now.
What-ifs in mind, it's way too early to classify Irving as injury-prone. If this actually becomes a career-long pattern, or if this fractured kneecap business becomes a recurring issue, it's fair to revisit the situation.
For now, doubting a 23-year-old kid who, when on the floor, has never once appeared like he was taking a step back, is just excessive.