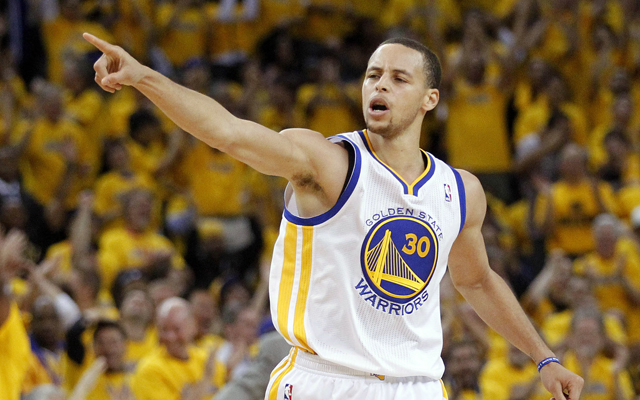 Through the first four games of his MVP defense campaign Steph Curry is averaging 37 points, 6.3 assists, 5 rebounds and 2.5 steals.
That is in only 31.8 minutes per game, his numbers per 36 minutes are almost 42-7-6-3. Those are video game numbers.
He is also shooting 96% from the free throw line, 60% from the field and 49% from three point range which is ungodly.
All the while he has led the defending champs to a 4-0 record and they have outscored their opponents 476-376 while scoring 119 point per game.
Curry's Player Efficiency Rating through four games is 50.5 (let that sink in)> The next highest player in the NBA is at 36.1 and the record for the highest PER for a season is Wilt Chamberlain's 31.7 PER rating for the 1962-63 season.
There is no way Curry will be able to keep up this pace for a whole season, but if he continues to excel the first ever 90-50-50 season may not be out of the question along with another MVP award to add to his collection.
Enjoy Chef Curry in the kitchen…
#ChefCurry lives in video game mode. #DubNationBling pic.twitter.com/oiIFP3OHEv

— LOYAL to a TEE (@LOYALtoaTEE) November 3, 2015
Too easy #ChefCurry https://t.co/752zUnXoiV

— Doctor NBA (@DoctorNBA) November 1, 2015
We got a new Showtime https://t.co/jILyiFPOcJ

— ONLY THE NBA (@OnlyTheNBA) November 3, 2015