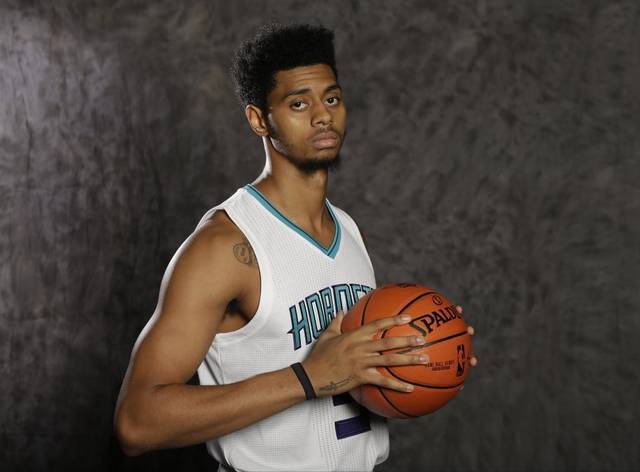 The Charlotte Hornets are really buying into that Jeremy Lamb hype that existed in 2012 and has since petered out.
After a relatively unsuccessful three years with the Oklahoma City Thunder, Lamb now finds himself in a situation with the Hornets where, at some point, he should be able to make real contributions. And Charlotte has decided to invest another $21 million in those contributions.
Marc Stein first brought word of the deal, which was then confirmed by the Charlotte Observer's Rick Bonnell:
Can confirm @ESPNSteinLine report that @hornets have agreement in principle with Jeremy Lamb on 3-year, $21 million extension.

— Rick Bonnell (@rick_bonnell) November 2, 2015
An average annual salary of $7 million seems like a lot for Lamb. With the exception of his 44 percent three-point clip through two appearances this season, he's been a mediocre shooter and middling to below-average playmaker. He also saw his playing time get cut in more than half between 2013-14 and last season in Oklahoma City. That's never a good sign, especially when the Thunder were battling so many injuries.
Still, Lamb is already, both on paper and on the shot chart, one of the Hornets' best shooters. They're essentially betting an average of $7 million a year that he can become that three-point specialist who can sometimes worth off the dribble and can exist within a strong defensive system as an even defender. That's a fair price.
And, like every deal, it looks better under the rising cap.
Lamb's deal will be worth less than eight percent of the cap next season, and less than seven percent in 2017-18. By the time it can actually look ridiculously bad, in 2018-19, he'll be ready to come off the books and easily movable as a digestible expiring contract.
This, in truth, may end up being one of the Hornets' better moves. They spent too much money on Kemba Walker last year and gave up on Noah Vonleh for a slightly above-average player in Batum. The extensions of Michael Kidd-Gilchrist and Lamb are actually moves that have them investing in the future at what could eventually be bargain-bin rates.
There's no reason to really hate on that.