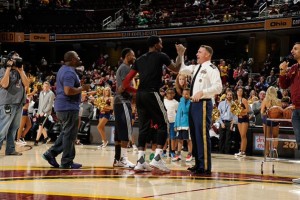 If you could choose one player on the Cleveland Cavaliers to hit a deep three pointer on your behalf to try and win $30,000, who would it be? My guess is that most Cavs fans would point to JR Smith given his propensity for hitting clutch shots from well-deep of the three point line, in pressure situations.
That scenario played out after a Cavs recent intrasquad scrimmage that was open to fans. Before the game started, JR Smith attempted a half-court shot to win a $30,000 cash prize for a member of the military.
And what do you know? Smith was clutch city….