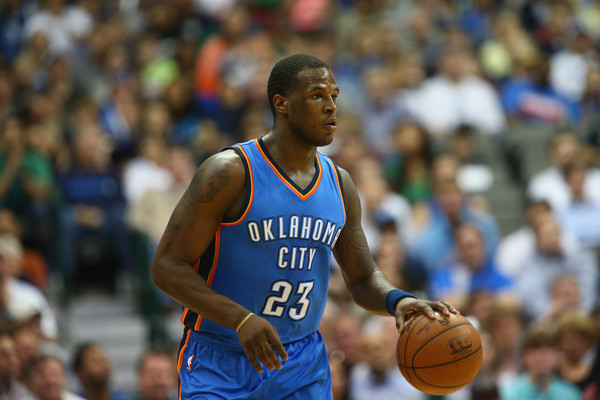 Dion Waiters doesn't need a four-year commitment from the Oklahoma City Thunder to feel good about his place on the team.
Though, of course, that would certainly help.
Dion Waiters is eligible to sign an extension, but if he and the Thunder cannot reach an agreement by Monday's deadline, he will enter restricted free agency next summer. Oklahoma City will have the right to match any offer he fields from other teams in that scenario, but the process becomes a lot more complicated whenever other suitors get involved, and his case figures to be even more complex with the Thunder preparing for Kevin Durant's free agency.
Truth told, an extension isn't coming for Waiters. It just wouldn't make sense for the Thunder to invest more in this core now, before they know what's happening with Durant. Throwing $70 million at Enes Kanter was even a questionable decision.
Right now, if Dion Waiters isn't willing to sign at a price they feel immediately good about, it makes more sense for them to wait for the market to set his value, see what Durant decides to do and then go from there. And that will work for Waiters, in part because he has no choice.
Mostly, though, he's just happy in Oklahoma City.
From Erik Horne of The Oklahoman:
With a contract extension deadline coming up in days, you'd expect Dion Waiters to be a little nervous. Waiters, however, said Thursday this is by far the most comfortable he's felt in his NBA career, calling the Thunder a "brotherhood." . . .

Around this time last year, Waiters was a starter as the Cavaliers tipped off with a shocking loss to the New York Knicks to start the season. By January, he was on the outside with the Cavs and on his way to the Thunder via trade. After spending the first 2 1/2 years of his career with Cleveland, Waiters said his time with the Thunder has been unlike anything he's experienced thus far in the league. He seeing the significance of hanging out during the day or going out with teammates — little comforts that go a long way.

"We're always together," Waiters said. "There's always genuine love, not just on the court but off the court, also. I think that plays a key role in everything in our success on the court.

"I've never been a part of a team that did that as a whole, as everybody. That's great for me."
Dion Waiters' comfort in Oklahoma City is understatedly important. The Thunder don't want to deal with rumors and reports of displeasure once contract talks are tabled until July. That's the last distraction they need. Every distraction is the last distraction they need, given how important this season could end up being to their future—a future that Waiters clearly wants to be a part of, even if it means waiting to see if Oklahoma City feels the same way.