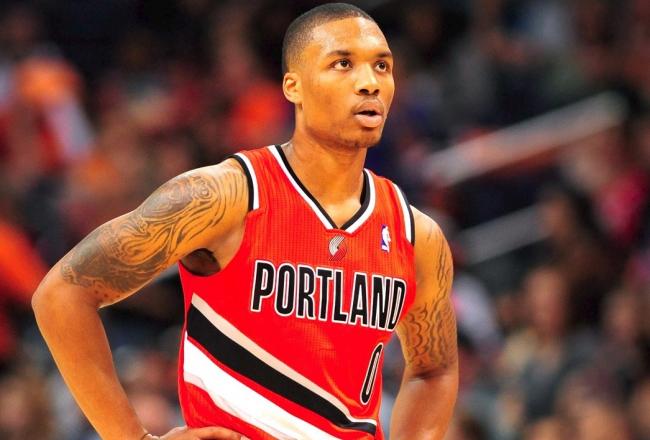 The Portland Trail Blazers offense is in a remarkably poor situation, but All-Star point guard Damian Lillard plans to address part of the problem by being more aggressive at the rim in 2015-16.
According to Jason Quick of CSN Northwest, Damian Lillard said he's not focused on drawing more fouls but hopes his offseason work of not shying away from contact will pay off.
"In the past I was trying to beat guys to the rim and get the ball on the glass. This year, in the summer, I worked a lot on getting into people's body, drawing contact. And (work on) my balance, using angles, and getting to spots on the floor."
Lillard attempted just 4.9 free throws per game last season, which ranked 24th in the NBA. His 86.4 percent mark from the charity stripe was fourth-best among players who attempted at least four free throws.
What's more telling, though, is the rate Damian Lillard earned trips to the line.
Though the presence of LaMarcus Aldridge and Robin Lopez in the post certainly didn't help Lillard, he sometimes looked for fancy finishes than contact. Yes, he wasn't getting superstar calls, but Lillard hoisted 1,360 field goals compared to just 398—a 29.3 percent pace.
That needs to change this season, because Portland lost five of its top six scorers. LaMarcus Aldridge signed with the San Antonio Spurs, Wesley Matthews bolted for the Dallas Mavericks, Arron Afflalo and Robin Lopez each headed off to the New York Knicks and the franchise traded Nicolas Batum.
In 2015-16, Lillard should be targeting a 40-percent rate of getting to the free-throw line compared to attempting field goals. Russell Westbrook (45.5) of the Oklahoma City Thunder and Eric Bledsoe (42.2) of the Phoenix Suns are similar to Lillard's attack-first mentality, but they were much better than his 29.3.
Damian Lillard netted a career-best 21.0 points per game last year, and the Blazers will need another new personal high from the explosive guard for the team to even remain relevant.
And if Damian Lillard has his way, a respectable portion will come from the free-throw line.