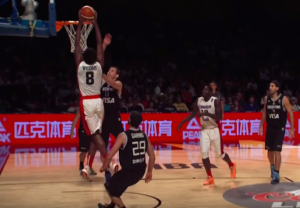 Andrew Wiggins wouldn't be Andrew Wiggins without his insane leaping ability.
We've all had the pleasure of seeing him posterize a handful of players with his death-defying dunks during his rookie season. And now, heading towards his sophomore year, the No. 1 pick in the 2014 NBA Draft is going to be even more fun to watch.
If you want some form of teaser, just look at what he did to Andres Nocioni of Argentina at the 2015 Fiba Americas Championship:
Please enable Javascript to watch this video
Unfortunately though, Wiggins and his team (Canada) lost this one 94-87 against a Luis Scola-led Argentinian National squad.
Benjamin Felix Santos' basketball career didn't work out pretty well so he decided to write about basketball instead.
Follow @biefsantos