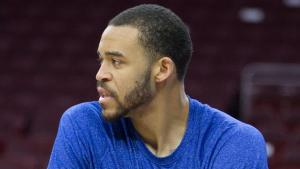 This isn't exactly DeAndre Jordan, but it's not nothing either. The Dallas Mavericks have signed JaVale McGee at a bargain. McGee signs a 2-year minimum deal. Sure, he has a penchant to Shaq-a-fool, but he certainly has value across the league. He's long and rangy, and you have to wonder if he could've gotten more somewhere else.
The Dallas Mavericks announced today that they have signed free-agent center JaVale McGee. Per team policy, terms of the deal were not disclosed.

McGee (7-0, 270) is a seven-year veteran with career averages of 8.4 points, 5.5 rebounds, 1.8 blocks and 19.9 minutes per game in 382 games (158 starts) with Washington, Denver and Philadelphia. He has shot 54 percent from the field for his career.

McGee appeared in 23 games for Denver and Philadelphia in 2014-15, averaging 4.6 points, 2.7 rebounds and 0.9 blocks in 11.1 minutes per contest.
H/T: mavs.com