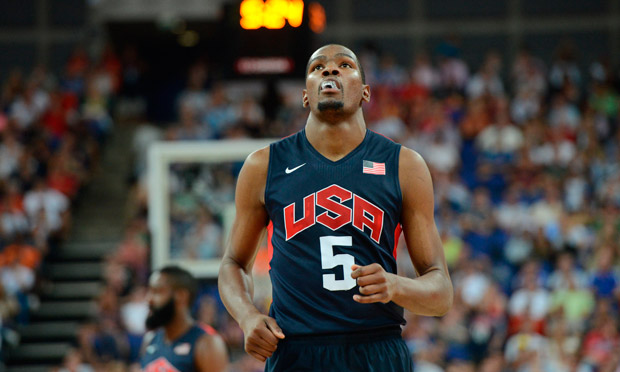 Next summer, if and when Kevin Durant re-signs with the Oklahoma City Thunder in free agency, it won't necessarily be because they give him the best chance to win.
Instead, it might be out of fear for what Russell Westbrook will do—or, rather, say—if he were to leave.
Durant is chilling with Team USA at the moment—actually half-practicing and everything. With that type of exposure comes mass media; and with mass media comes questions; and with questions comes the obvious, repetitive, Twitter-timeline-obstructing sludge that you don't want to read, but need to read, and secretly want to read.
Some brave soul asked Durant about his impending free-agent nuptials, per SI.com's Ben Golliver, to which the 2013-14 NBA MVP responded:
Kevin Durant dismisses 2016 FA talk. "I'm just trying to go out there and not get cussed out by Russell Westbrook." pic.twitter.com/75XmvP1K6d

— Ben Golliver (@BenGolliver) August 11, 2015
Well, he's clearly lying. Westbrook is pretty much a giant teddy bear.
Like, how could KD be afraid of this: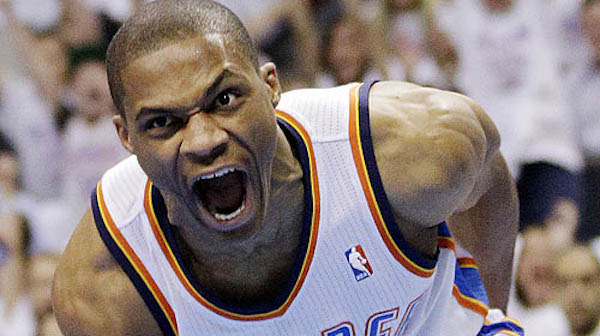 Skepticism retracted.
There's no way KD leaves Oklahoma City now—unless he's feeling the sudden urge to incur the wrath of Westbrook.
Of course, Westbrook himself is a free agent in 2017. I wonder if KD can instill the same kind of fear in him. Probz not. KD has tried to play the villain in the past, and that's backfired. He actually is a lanky teddy bear.
In other, non-free-agency news, KD is apparently healthy, as relayed to us by Bleacher Report's Ethan Skolnick:
Kevin Durant on his foot: "I'm feeling great. I can go 100 percent."

— Ethan J. Skolnick (@EthanJSkolnick) August 11, 2015
That's both good and bad. A healthy KD is good. A healthy KD who is also going all-out with Team USA is, um…take it away Sam Presti:
"DON'T YOU FREAKIN' DARE." -Sam Presti https://t.co/ksmlnFWoqz

— Dan Favale (@danfavale) August 11, 2015
[switches to sarcasm font]
Sounds like Westbrook needs to give KD a stern talking to on the importance of regular-season basketball versus exhibition-level, unpaid Team USA practices.