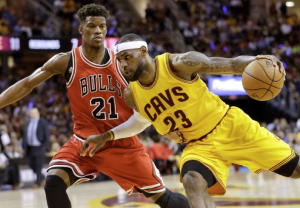 Coming into game two against the Chicago Bulls, LeBron James knew that he needed to show up to avoid going down 0-2 in this series. But in order to do this, he apparently needed help from his old pal….his headband.
On Thursday night, the entire world witnessed the return of LeBron's headband, resulting in a 33-point explosion from the King. The Cleveland Cavaliers took a 106-91 victory over the Bulls, tying the series at one game apiece before they travel to Chicago for the next two games.
And to prove that LeBron wasn't going to be stopped in game two, check out this aggressive dribble drive and dunk over one of the league's known defenders, Jimmy Butler…
Please enable Javascript to watch this video
Take that, Mr. Most Improved Player.