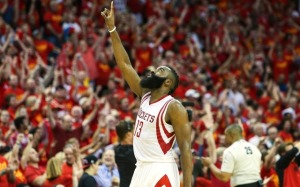 Houston has done it.
On Sunday night's do-or-die game seven, the Houston Rockets, who initially faced a bleak 3-1 deficit against the Los Angeles Clippers, completed one of the most incredible series comebacks in league history as they came out with the 100-113 victory to eliminate the Clippers and advance to the Western Conference Finals for a matchup with Stephen Curry and his top-seeded Golden State Warriors.
It wasn't an easy win for the Rockets, though. The Clippers fought from start to finish and refused to give up till the final buzzer. However, their efforts weren't enough as it was James Harden for the Rockets who led the charge and ensured them a ticket to the conference finals by finishing the night with a game-high of 31 points, together with 7 rebound and 8 assists, which almost gave him a triple-double.
And needless to say, this performance from Harden is worth another look. Enjoy.
Please enable Javascript to watch this video