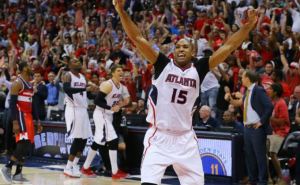 It was yet another thrilling finish in Wednesday night's game five between the Wizards and the Hawks.
For the Wizards, their star point guard John Wall was finally reinserted back into their starting lineup after missing the last three games due to a hand injury. However, even with Wall's return, the Wizards fell a point short, as the Hawks completed a furious comeback in the final period winning the game in dramatic fashion thanks to their center Al Horford.
With exactly just 8.3 seconds on the clock the Hawks were saved by Horford, who managed to grab the crucial offensive rebound—after a missed layup attempt to sink the game-winning put back. Gotta love the NBA playoffs.
Please enable Javascript to watch this video