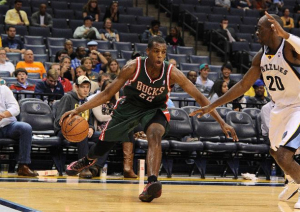 In spite of a first-round exit from the playoffs courtesy of the Chicago Bulls, the Milwaukee Bucks were one of the biggest surprises this season as no one expected them to even make it beyond the regular season. But, they proved us all wrong.
One of the key reasons for their unexpected success is their third-year shooting guard Khris Middleton, who is arguably their most consistent player right now and has played well enough to be included as one of the key free agents that many teams will surely pursue.
Middleton will be a restricted free agent this off-season, however, it is likely that he will remain in Milwaukee, according to Charles F. Gardner of the Milwaukee Journal Sentinel:
Middleton on RFA: "I hope to be back here. I feel we have a great young team, going in the right direction."

— cfgardner (@cf_gardner) May 1, 2015
At only 23 years of age, the Bucks can still look forward to the further maturation of Middleton as he has yet to hit his prime. He is a versatile player, who can play both the shooting guard and small forward positions, provide good defense, and knock down three-pointers with a high accuracy.
Also, he's proven himself to be a type of player who can deliver in the clutch with a number of game-winners this season at the expense of the Suns and the Heat.
It wouldn't really make sense for Milwaukee to let him walk, unless they're planning to make a big splash this off-season in landing or attracting via trade, top free agents (LaMarcus Aldridge, Marc Gasol, and alike) to help complete the puzzle. But otherwise, it's unlikely for Middleton and the Bucks to part ways.
Middleton played in 79 games with the Bucks this season averaging 13.4 points, 4.4 rebounds, 2.0 assists, 1.5 steals while shooting above 40 percent from the field and from three-point territory.
With a young foundation composed of Middleton, Giannis Antetokounmpo, Jabari Parker, and Michael Carter-Williams in Milwaukee. The future is looking really bright.
It's just a matter of time before teams start to fear the deer again.