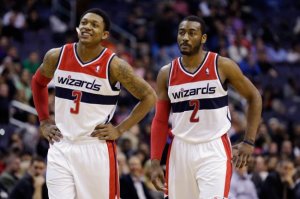 Yes, the Washington Wizards jumped out to a 1-0 series lead over the Atlanta Hawks.
No, they won't be basking in that victory for long.
Or at all.
As they prepare for Game 2 in Atlanta, the Wizards push forward, cautiously no doubt, knowing that both John Wall and Bradley Beal.
First we have Wall's wrist, per ESPN New York Ohm Youngmisuk:
John Wall initially thought he broke left wrist or hand when he fell on it. But no broken bones. The hand swelled up but he expects to play

— Ohm Youngmisuk (@NotoriousOHM) May 4, 2015
]
John Wall said he initially had pain in his wrist. After taping it, the swelling went to his hand. His left hand looked swollen

— Ohm Youngmisuk (@NotoriousOHM) May 4, 2015
Beal, meanwhile, is dealing with some ankle issues:
tweet
Bradley Beal says his ankle feels better, not as bad as he thought day after he hurt it and will play in Game 2.

— Ohm Youngmisuk (@NotoriousOHM) May 4, 2015
Although both are expected to play in Game 2, this is not ideal. For one, the Wizards didn't actually dominate Game 1. The Hawks shot a crappy rate on wide-open shots. They were making correctable mistakes, gaffes they'll remedy at some point during the series. And because nothing they did is detrimental or permanent or the result of Washington being head-and-shoulders better, the Wizards need all hands on deck if they're to reach the Eastern Conference Finals.
The Wizards are outscoring their playoff opponents by 12.5 points per 100 possessions when both Wall and Beal share the floor, according NBA.com. Though they're a net plus when both are off the floor, the sample size on that is not ideal. They've played without Beal for just 38 minutes and without Wall for 54 minutes.
If one or both of them is unable to go at any point, the offense is in trouble. Randy Wittman has done a nice job running smaller lineups, diminishing the Wizards' dependency on both Beal and Wall, but 1) those diminutive five-man combines aren't as advantageous against a Hawks team that fields similar configurations and 2) Wall's incisive drives and Beal's outside shooting are a big part of why those quintets work at all.
Take any one of them out of the equation, and there's trouble. Not statistically at the moment. Not yet. It's too soon for that to reflect in the statistics. But the Wizards won't be as dangerous if one or both of these guys isn't a full strength.
Thus, Game 2 is big, not just because of the potential outcome, but because it serves as a barometer for the postseason well-being of Washington's most important players.