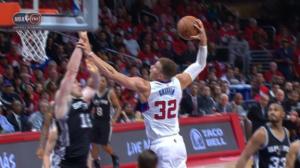 On Sunday night's game one win (107-92) over the defending champs—Spurs. The Clippers played a very efficient game, especially at the offensive end with Chris Paul's game-high of 32 points, 7 rebounds, and 6 assists. While on the other side, it was Kawhi Leonard for the Spurs, who led the way with a quiet 18 points.
During the first 30 minutes of the game, both teams were neck-and-neck, until Paul and teammate Blake Griffin decided to take charge and eventually pull away from the Spurs, through a 24-10 run in the third period.
And it was also during this run of the Clippers, where Spurs' center Aron Baynes got annihilated thrice by Griffin, who took to flight for three huge poster dunks that sent the entire Staples crowd up on their feet in a hurry….
Please enable Javascript to watch this video
Some credit though to Baynes, for having more than enough guts (or foolish enough) to contest the godlike hops of Griffin. Fool me once, shame on you, fool me twice shame on me, fool me three times?
Let's hope he (Baynes) still has some dignity left for the rest of the series.
Benjamin Felix Santos is an aspiring NBA writer, who bleeds the purple and gold. His love and passion for the game will never die.
Follow @biefsantos