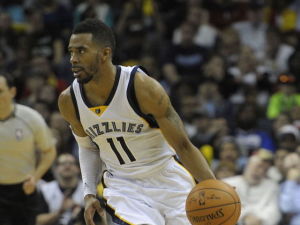 Mike Conley took an inadvertent elbow to the face from C.J. McCollum in game 3 and left the game. The elbow was so bad he had to undergo facial surgery. It will be at least 48 hours for Memphis' medical staff to examine Conley and see how long he'll be out for. Needless to say, the Grizzlies won't have Mike for game 4.
After surgery to repair a facial fracture on guard Mike Conley, the Memphis Grizzlies need to wait 48 hours for the swelling to subside before gaining a clearer understanding of a timeline for a possible playoff return, league sources told Yahoo Sports.

There are scenarios in which Conley could return in a possible Western Conference semifinal series against the Golden State Warriors, league sources said, but that's uncertain until the healing process begins, the pain lessens and Conley can be fitted for a mask.

Conley underwent surgery Monday in Memphis after sustaining a facial fracture under his left eye in the Grizzlies' Game 3 victory over Portland on Saturday night.
H/T: Yahoo