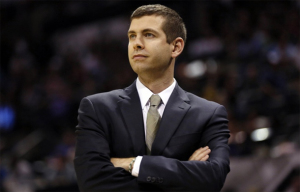 Texas fired Rick Barnes after 17 years of patrolling the sidelines for the longhorns. All of a sudden, a pretty high profile college job has opened up. Names such as VCU's Shaka Smart and Wichita State's Gregg Marshall were initially rumored to be leading candidates, but how about Brad Stevens of the Celtics?
Stevens left Butler to make the leap to the pros and if history is an indicator, he'll return to college after failing in the NBA. But don't count on it, says Stevens.
Stevens, who twice took Butler to the Final Four before coming to Boston, was asked before Wednesday's game against the Pacers about interest from Texas.

"I'll be in Boston," he responded.
H/T: Boston.com