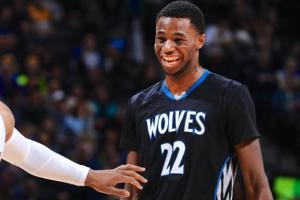 As most predicted, the NBA's rookie of the year is going to be Minnesota Timberwolves swingman Andrew Wiggins. An officially announcement will be made on Thursday, according to various league sources.
Wiggins played the entire 82 games this season and averaged 16.9 points, 4.6 rebounds, 2.1 assists and 36 minutes per contest.
Source: T-Wolves Andrew Wiggins will be named the NBA's Rookie of the Year on Thursday. http://t.co/Wm2XqGVaHG

— Marc J. Spears (@SpearsNBAYahoo) April 29, 2015
The 20 year-old former Kansas standout, lived up to everyone's expectations, and exceeded others. He gave fans a reason to go and see the Wolves through his ability to score at his own accord, and especially, his insane hops that resulted in numerous poster dunks. Plus, with a weak supporting cast, Wiggins had to really work hard and carry a bigger responsibility for the team throughout the season, which allowed him to adjust and assert himself in the league at a faster pace.
Many of his fellow members of the 2014-15 rookie class went down with injuries, but this didn't stop Wiggins from consistently pouring everything he's got into the game and his team on and off the court. Wiggins was the frontrunner for the award from the beginning and failed to disappoint. While trailing behind him are Bulls' Nikola Mirotic, Sixers' Nerlens Noel, and Magic's Elfrid Payton— who all played well enough to be in the mix for the award.
Congratulations, Andrew!