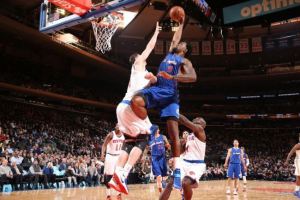 We've always known how scary Clippers' big man DeAndre Jordan can be as an opponent, especially when he decides to elevate for a death-defying dunk that no one should even dare try to contest.
But on Wednesday night, Knicks center Jason Smith was brave enough to challenge him by trying to block Jordan's dunk attempt that resulted in his own demise….
Please enable Javascript to watch this video
You gotta give some credit though to Smith for being brave enough to contest Jordan on national television. Goodbye Jason Smith, goodbye.
Benjamin Felix Santos is an aspiring NBA writer, who bleeds the purple and gold. His love and passion for the game will never die.
Follow @biefsantos