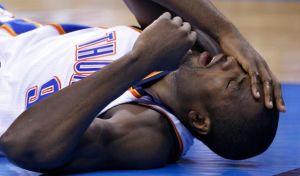 This nightmare of a season can't get any worse for OKC. Or, maybe it can. With Kevin Durant sidelined with a bum foot and Russell Westbrook playing with a protective mask after denting his face, we learn that Serge Ibaka will need knee surgery. He has missed the last two contest for OKC and there's no timetable for his return at the moment.
Will they be able to hold off New Orleans for that 8th spot out west? If so, KD will need to get back soon.
Oklahoma City Thunder forward Serge Ibaka will undergo a knee procedure to address some persistent soreness, sources told ESPN.com.

It is not clear how long Ibaka will be sidelined following the surgery.

He will see a specialist for further evaluation, with the expectation for him to have a clean-out procedure in order to be ready for the postseason.
H/T: espn