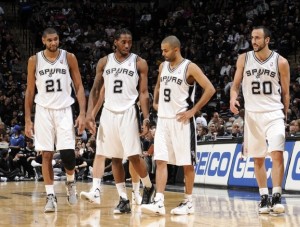 It's no secret: Throughout the current campaign, the San Antonio Spurs haven't displayed the same dominance that keyed a convincing run to the 2013-14 NBA championship.
Nevertheless, we've been waiting for the Spurs to and regain their title-winning form. After all, every player on the roster who logged meaningful playing time last year is still on the team.
San Antonio started this season with a middling 19-14 record, loosely planted in the Western Conference's insanely competitive playoff picture.
When Patty Mills, Tiago Splitter, Tony Parker and Kawhi Leonard each overcame their respective injuries, the Spurs were supposed to be ready to establish themselves as a power in the 2014-15 West.
The defending champions ripped off a 14-5 stretch entering the All-Star break, but a four-game losing streak following the week off made us re-think our second thoughts.
A Blake Griffin-less Los Angeles Clippers squad edged San Antonio, who then fell to the Golden State Warriors, Utah Jazz and Portland Trail Blazers with a common theme: Tony Parker stunk.
After missing 14 games throughout the opening portion of the season mostly due to a hamstring injury, Parker was working himself back into his slippery form. But during the trio of games, the point guard combined to shoot 3-of-21 with nine points, adding just 14 assists and committing 10 turnovers.
"I've never experienced a three-, four-game stretch like that," Parker said, per ESPN's Mike Wallace. "We're not making shots. It starts with me. I'm not making shots, and everything is tough. I was excited after the Clippers game, even though we lost. But it was a great game and I felt good. Now, it's just struggle time right now."
Parker is what makes the Spurs offense click at an elite level. Without him, San Antonio had and has zero chance to make a run at a repeat title.
So, now that the 14-year veteran has tallied 20.5 points per contest on 51.5 percent shooting while appearing more like his dominant, efficient self during the Spurs' current six-game winning streak, the rush to declare the team "back" is equally as fast it took to declare it "done."
And Parker truly has performed magnificently, particularly in the nationally televised clash with the Bulls where he scored a season-high 32 points. But slow down for a minute.
Manu Ginobili cited the biggest reason for San Antonio's hot stretch, as noted by Mike Monroe of the San Antonio Express-News.
We've had a better schedule, played a lot at home. We played Chicago (Sunday) without (Derrick) Rose, without (Taj) Gibson, without (Jimmy) Butler. Give them a lot of credit because they are still tough and aggressive, but the scale has been sort of helpful for us to come back."
The scale, of course, is referring to the Spurs' mediocre recent schedule. Meetings with the Sacramento Kings sandwiched an outing with the reeling Phoenix Suns, followed by the struggling Denver Nuggets, injury-riddled Chicago Bulls and floundering Toronto Raptors.
Wins are wins, but losing any of those tilts surely would have been a disappointment to San Antonio.
Plus, other than an upcoming clash with LeBron James and the Cleveland Cavaliers, the Spurs' opponents don't get much tougher for another week. If Gregg Popovich's team can topple the Cavs, San Antonio should finish off at least an 11-game winning streak because the Minnesota Timberwolves, New York Knicks, Milwaukee Bucks and Boston Celtics follow.
The Spurs are just a half-game back of the Clippers for the fifth seed in the West and a mere 2.0 behind the Blazers for fourth. Consequent to San Antonio's weak week, the Spurs have an excellent opportunity to jump both clubs and obtain a position that would allow them to host an opening-round playoff series.
But a five-game stretch over an eight-day span against the Atlanta Hawks, Dallas Mavericks, Oklahoma City Thunder, Mavericks and Memphis Grizzlies await the Spurs following the cupcake-filled slate.
If Parker and Co. rip through the handful of difficult contests, San Antonio is assuredly "back." But right now, the Spurs are simply the eighth-grade bullies exerting the physical dominance on fifth-grade kids.
Just wait until they hit high school. Then we'll see how tough they really are.
Unless otherwise noted, stats are courtesy of Basketball-Reference.com and are accurate as of March 9.
In addition to his work for The Hoop Doctors, David Kenyon contributes to Bleacher Report and Sportsnaut. You can follow him on Twitter: @Kenyon19_BR.