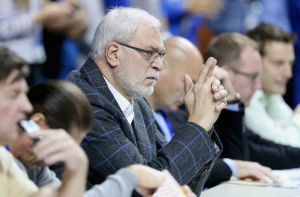 Charlie Rosen, here are your 10 seconds of The Hoop Doctors fame.
The New York Knicks are going to have the best odds of winning the NBA draft lottery, thereby guaranteeing they select no lower than fourth. Wherever they end up, they're likely going to have their pick of the litter. At least one of Kentucky's Karl-Anthony Towns, Duke's Jahlil Okafor and Ohio State's D'Angelo Russell should be available. Assuming the Knicks don't trade their pick, they could use any one of those prospects.
Or rather, almost all of them, according to Rosen.
From the New York Post's Marc Berman:
As Charley Rosen observes his buddy Phil Jackson's first full year as Knicks team president, he can't stop wondering what a wide-bodied low-post center could have done for the Knicks' triangle offense.

Rosen, Jackson's confidant and his former longtime Albany Patroons assistant coach, believes center has to be the Knicks' No. 1 priority in the offseason. Rosen, a triangle savant, believes Kentucky's Karl-Anthony Towns, who has growing momentum as the No. 1 overall pick, isn't the answer as the low-post threat needed in the triangle, but free-agent-to-be center Greg Monroe of Detroit would be a great Jackson pickup.

Rosen reserved judgment on Duke center Jahlil Okafor because he said he hasn't seen him much, but is skeptical about Towns, despite carrying Kentucky with post buckets late in its last-second win over Notre Dame Saturday.

"They need a center with a big butt to hold space,'' Rosen told The Post. "They didn't have anybody like that. It takes away a major portion of what you can do with the triangle because then it really becomes just a perimeter offense.''
We now go live to the New York Daily News' Frank Isola:
So in an athletic NBA, the Knicks are hoping to find the male Kim Kardashian. Just brilliant.

— Frank Isola (@FisolaNYDN) March 30, 2015
What the Knicks actually need is competent players. After that, they need to ditch the triangle offense, which at its core, is outdated and not conducive to the contemporary, faster-paced NBA.
Frankly, they're not in a position to be especially choosy, either. Free agents aren't going look at them as a desirable destination, and if Towns—a floor-spacing big man with shot-blocking and (some) passing chops—is available, they would be lucky to have him. He's an instant upgrade over anyone they've played the 4-spot this season. That is, unless you count Carmelo Anthony. Which you can't. Because the Knicks elected to use him as a full-time small forward, despite all the statistical evidence ever proving he's better off at power forward.
Now, for anyone taking Rosen's advice seriously, I have a message for you: Don't. Personally, I don't know much about the man. But I do know Towns is a better shooter and defender than Okafor, with an NBA ceiling just as high—so high, he's a potential superstar.
Oh, and there's also this tidbit from Isola:
Again, Charley Rosen, aka Sir Mix A lot of the NBA, on a rookie named LeBron: "The best King James can ever be is an average NBA player."

— Frank Isola (@FisolaNYDN) March 30, 2015
Here, then, is to hoping that, whatever the Knicks do, they do it without asking themselves "What would Charley Rosen do?"