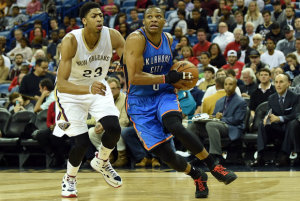 March 4, 2015, isn't a day that will live in infamy, but it certainly was an eventful night around the association.
From Anthony Davis etching his name into franchise lore to Russell Westbrook continuing his full-on domination of everyone and everything that steps in the way, some illustrious memories emerged from four NBA superstars.
To be frank, merely glossing over the history made throughout the league without calling attention to what happened would be a disservice to the excellence displayed.
Anthony Davis, Power Forward, New Orleans Pelicans
"The Brow" returned from a five-game absence caused by a shoulder injury and, although the New Orleans Pelicans only won 88-85, proceeded to demolish the Detroit Pistons.
Davis racked up 39 points, 13 rebounds, eight blocks, three steals and two assists in 42 minutes. Those numbers are only surpassed by Hall of Fame inductee Hakeem Olajuwon, who tallied 38/17/12/7/6 in 1987.
Additionally, Davis became the franchise record-holder in blocks, swatting 437 through just 180 career appearances with New Orleans, a healthy average of 2.4 per outing. He passed David West, who needed 530 games to record 435 blocks—or 0.8 per contest.
Davis has solidified himself as one of the elite players in the NBA, and he's only getting more impressive. The 21-year-old is already on Olajuwon levels. That's just absurd.
DeAndre Jordan, Center, Los Angeles Clippers
It has been nearly a full month since DeAndre Jordan failed to record at least 15 rebounds in a game. #Clippers

— Adam Pfeifer (@APfeifer24) March 3, 2015
Blake Griffin's extended absence has allowed DeAndre Jordan to monopolize the interior even more than normal, and the center has put together a terrific streak on the glass.
Despite the Los Angeles Clippers falling to the Portland Trail Blazers 98-93 in an overtime thriller, Jordan snatched 19 rebounds—his 10th consecutive game of 15-plus boards.
He became just the third player since 2003 to accomplish the feat. Kevin Love and Anderson Varejao achieved the streak in 2010 and 2012, respectively.
A challenge with the Golden State Warriors, who have allowed 10 performances of 15-plus this season, awaits Jordan next, followed by the bottom-feeding Minnesota Timberwolves. The streak may not end for a while.
Damian Lillard, Point Guard, Portland Trail Blazers
Damian Lillard's 18 rebounds are the most by a guard in the NBA since Jason Kidd recorded 19 on Nov. 16, 2007. #PORatLAC

— Trail Blazers PR (@TrailBlazersPR) March 5, 2015
Fresh off setting the NBA record for most three-pointers through his first three seasons, Damian Lillard couldn't hit water if he fell out of a boat.
The Los Angeles Clippers were without Blake Griffin, Jamal Crawford and Matt Barnes, yet the Portland Trail Blazers still managed to overcome a historically weird performance from Lillard. The point guard was 1-of-13 from the field and misfired on all seven three-pointers but collected a career-high 18 boards.
According to Basketball-Reference.com, only 14 players since the 1985-86 campaign have tallied zero or one field goals in 10-plus attempts while snagging at least 15 boards. Strangely enough, he had only once recorded double-digit rebounds in a single game.
It's a pretty safe bet that Lillard won't repeat that performance during the rest of his career.
Russell Westbrook, Point Guard, Oklahoma City Thunder
Again, that's 49 points, 16 rebounds, 10 assists, 3 steals and one RIDICULOUS dunk for Russell Westbrook tonight. https://t.co/GynfjJpIaw

— NBA (@NBA) March 5, 2015
When Kevin Durant is sidelined, Westbrook takes over the Oklahoma City Thunder. And he pummels the competition, every single time.
The explosive point guard notched his fourth consecutive triple-double, becoming the first player since Michael Jordan (1989) to rip off four straight. Westbrook shredded the Philadelphia 76ers for 49 points and 16 rebounds—both career-best marks—and 10 assists.
What's more, according to ESPN's Royce Young, Westbrook lifted his per-game average to 27.0 points, snatching the NBA scoring lead away from James Harden.
If Westbrook wins the 2014-15 MVP, we might look back at March 4, 2015, as the night he started running away with the honor. And that's pretty memorable.
Unless otherwise noted, stats are courtesy of Basketball-Reference.com and are accurate as of March 4.
In addition to his work for The Hoop Doctors, David Kenyon contributes to Bleacher Report and Sportsnaut. You can follow him on Twitter: @Kenyon19_BR.